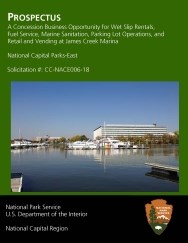 The National Park Service (NPS) issues a prospectus soliciting proposals for the award of a concession contract to provide marina operations at James Creek Marina within National Capital Parks-East. The prospectus explains the business opportunity and the terms and conditions under which the NPS will award the concession contract. The NPS has determined that the existing concessioner is not a preferred offeror for the draft contract.
Any proposal must be received by 4:00 p.m. (ET) on October 26, 2018. Please submit proposals to:
Chief of Concessions
National Capital Region
National Park Service
1100 Ohio Drive
Washington, DC 20242
Site Visit
The NPS will conduct a site visit at James Creek Marina beginning at 10:00 am (ET) on August 9, 2018. The site visit will provide an overview of the concession operation, along with a tour of the concession facilities associated with the draft contract. Attendance requires a mandatory RSVP email to June Devisfruto no later than 4:00 PM (ET) August 6. All RSVP emails must include:
Your name
Email
Address
Phone number
Name of the organization
Amendments
To receive amendments to this prospectus, please email Chad Tinney or call (202) 619-7072. The NPS will email any additional information specific to the prospectus to interested parties who have been placed on the contact list. The contact list already includes the existing concessioner.