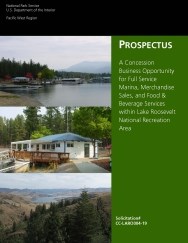 Solicitation for Proposals for New Concession Contract to Operate Commercial Visitor Services at Lake Roosevelt National Recreation Area
The National Park Service (NPS) issues a prospectus soliciting proposals in response to a business opportunity to operate full service marina, merchandise sales, and food & beverage services at Lake Roosevelt National Recreation Area.
The NPS issues the prospectus on under the terms described in the prospectus. The Director has determined there is no preferred offeror for the draft contract. If you retrieve a copy of the prospectus from this website, please notify Chris Fryday so you are placed on the mailing list to receive notifications of future modifications or other correspondence.
This solicitation is closed.