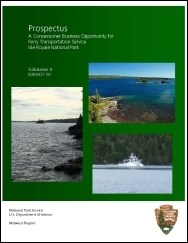 Solicitation for Concession Contract to Provide Ferry Transportation Service at Isle Royale National Park
The National Park Service (NPS) issues a prospectus soliciting proposals for the award of a concession contract to provide ferry transportation service at Isle Royale National Park. The prospectus explains the business opportunity and the terms and conditions under which the NPS will award the concession contract. The Director has determined that a preferred offeror for this draft contract exists.
This solicitation is closed.