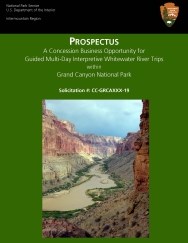 Solicitation for the award of Concession Contracts for Guided Multi-Day Interpretive Whitewater River Trips in Grand Canyon National Park
Through Amendment #5, NPS has elected to cancel the solicitation to conduct further analyses. We anticipate issuing a solicitation in 2019. The Service intends to publish a notice to extend the existing contracts through December 31, 2019 to avoid an interruption of visitor services.
This solicitation has been cancelled.