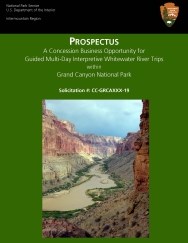 Solicitation for the award of Concession Contracts for Guided Multi-Day Interpretive Whitewater River Trips in Grand Canyon National Park
The National Park Service (NPS) has issued a prospectus soliciting proposals for the award of concession contracts for guided multi-day interpretive whitewater river trips in Grand Canyon National Park. The prospectus explains the business opportunity and the terms and conditions under which the NPS will award the concession contracts.
The Director has determined all of the contracts described in this prospectus are qualified contracts as outfitter and guide contracts; therefore, all of the existing concessioners are preferred offerors for the new contracts. If an existing concessioner submits a responsive proposal and that proposal is not selected as the best proposal, the preferred offeror designation allows it to match the terms of the best offer.
Any proposal must be received by 4:00 p.m. (MT) August 2, 2018. Please send proposals by to:
National Park Service
Intermountain Region
Attn: Chief of Concessions
12795 W. Alameda Parkway
Lakewood, CO 80228
Hard Copies
Hard copies will be available upon request for a printing cost recovery charge. The fee is $35.00 per copy delivered via Federal Express or $30.00 per copy if picked up in person. Persons interested in obtaining a prospectus should mail, or bring in person, a check or money order made payable to the NPS. (Cash will not be accepted.) You must include a physical address (no post office box) and a telephone number to receive a Federal Express package.
Amendments
To receive amendments to this prospectus, please notify Jennifer Parker. The NPS will email any additional information specific to the prospectus to interested parties on the contact list. The contact list already includes the existing concessioner.