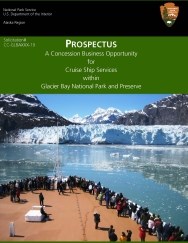 Solicitation for Concession Contract to Provide Cruise Ship Services at Glacier Bay National Park and Preserve
Glacier Bay offers limitless opportunities for adventure and inspiration. The National Park Service (NPS) relies on its concessioners to provide visitors with safe and enjoyable experiences in the bay aboard cruise ships and other vessels. The NPS intends to award five concession contracts to provide cruise ship services at the Park; however, two of the contracts are set aside for the two historic operators identified through the Alaska National Interest Lands Conservation Act (ANILCA) legislation. Generally, historical operators have a right to continue to provide the same kind and scope of service that they were providing when the ANILCA legislation passed.
This prospectus describes the existing cruise ship operations and the future authorized business opportunities. Offerors must review all sections of this prospectus and specifically, the terms and conditions of the draft concession contract to determine the full scope of a future concessioner's responsibilities.
Any proposal must be received by 4:00 p.m. (AKT) July 31, 2018. Please submit proposals to:
National Park Service
Alaska Regional Office
Attn: Chief of Concessions
240 W. 5th Avenue
Anchorage, Alaska 99501
Hard copies will be very limited and the NPS highly encourages patrons to utilize this website. Hard copy requests can be made to, David Lucas, 907-644-3365 or at the address above.
Amendments
If you are planning to submit a proposal and have obtained your prospectus from this website, please advise David Lucas of your contact information in order to receive future response to questions or amendments to the prospectus. Those requesting hard copy or who have been placed on the mailing list will be provided with any additional information specific to the prospectus in writing.
Questions
Questions specific to the prospectus must be asked in accordance with the proposal instructions.