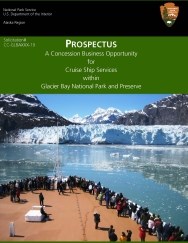 Solicitation for Concession Contract to Provide Cruise Ship Services at Glacier Bay National Park and Preserve
Glacier Bay offers limitless opportunities for adventure and inspiration. The National Park Service (NPS) relies on its concessioners to provide visitors with safe and enjoyable experiences in the bay aboard cruise ships and other vessels. The NPS intends to award five concession contracts to provide cruise ship services at the Park; however, two of the contracts are set aside for the two historic operators identified through the Alaska National Interest Lands Conservation Act (ANILCA) legislation. Generally, historical operators have a right to continue to provide the same kind and scope of service that they were providing when the ANILCA legislation passed.
This prospectus describes the existing cruise ship operations and the future authorized business opportunities. Offerors must review all sections of this prospectus and specifically, the terms and conditions of the draft concession contract to determine the full scope of a future concessioner's responsibilities.
This solicitation is closed.