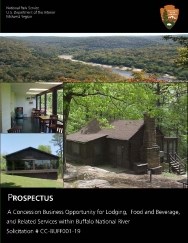 Solicitation for Concession Contract to Provide Lodging, Food and Beverage, and Related Services within Buffalo National River
The National Park Service (NPS) issues a prospectus soliciting proposals for the award of a concession contract to provide lodging, food and beverage, and related services within Buffalo National River. The prospectus explains the business opportunity and the terms and conditions under which the NPS will award the concession contract. The Director has determined that the existing concessioner is a preferred offeror for this draft contract.
Any proposal must be received by 4:00 p.m. (CT) July 26, 2018. Please submit proposals to:
Chief of Commercial Services
Midwest Region
National Park Service
601 Riverfront Drive
Omaha, Nebraska 68102
Site Visit
A site visit is scheduled for June 6, 2018. The site visit is an opportunity for interested parties to view the concession facilities. Attendance is not required in order to submit a proposal, however attendance is encouraged as this will be the only site visit provided by the NPS. All interested parties intending to attend the scheduled site visit must email Tracy Simmons, Chief of Commercial Services no later than 4:00 p.m. (CT) May 31, 2018 to reserve a spot. Further information related to the site visit will be provided at that time. The email must provide the following information:
Name of company or organization
A list of ALL attendees (full name)
Name of the primary contact including email and phone number.
Interested parties will be limited to a total of four (4) people per company or organization.
Hard Copies
Hard copies are available upon request for a printing cost recovery charge. The fee is $35.00 per copy to be delivered via express delivery or $30.00 per copy if picked up in person. Persons interested in obtaining a prospectus should mail, or bring in person, a check or money order made payable to the NPS. (Cash or credit cards are not accepted.) Send requests to the Chief of Commercial Services at the address listed above or call (402) 661-1750, during business hours of 8:00 a.m. until 4:00 p.m., Monday through Friday.
Amendments
To receive amendments to this prospectus, please email Tracy Simmons, Chief of Commercial Services, with your contact information:
Name
Email address
Phone number
The NPS will email any additional information specific to this prospectus to interested parties who request a hard copy of the prospectus or who have been placed on the contact list. The contact list already includes the existing concessioner.