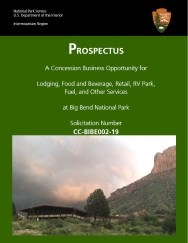 Solicitation for the award of a Concession Contract to Provide Lodging, Food and Beverage, Retail, RV Park, Fuel, and Other Services within Big Bend National Park
The National Park Service (NPS) has issued a prospectus soliciting proposals in response to a business opportunity to provide lodging, food and beverage, retail, RV park, fuel, and other services within Big Bend National Park. The Director has determined there is not a preferred offeror for the draft contract.
Any proposal must be received by 4:00 p.m. (PT) July 31, 2018. Please submit proposals to:
National Park Service
Intermountain Region
Attn: Chief of Concessions
12795 W. Alameda Parkway
Lakewood, CO 80228
To receive amendments to this prospectus, please notify Jennifer Parker. The NPS will send any additional information specific to the prospectus via email, to interested parties on the contact list.