Bats at BioBlitz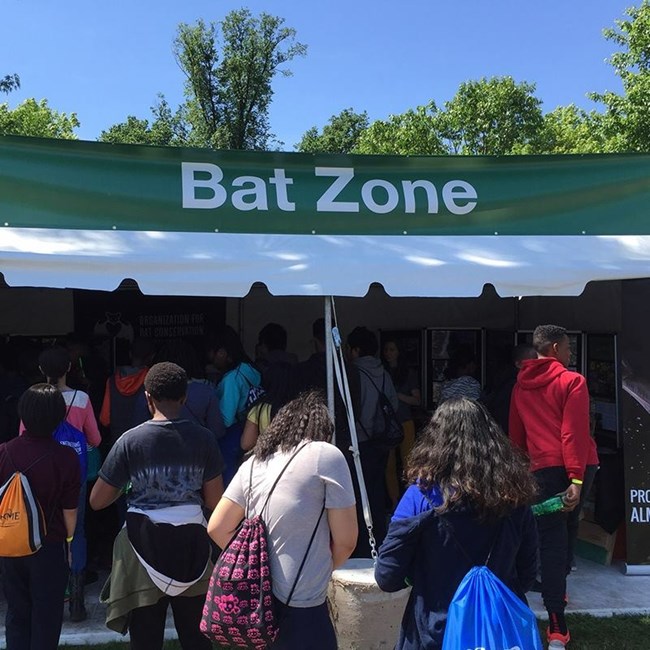 How often do you look up at night? Next time the sky dims and the insects start to hum, gaze up.
You may be surprised to see flickering shadows of bats dipping and diving, chasing their nightly meal of insects. Although it appears to be a silent dance, with the right tools, it's actually quite NOISY!
A group of citizen scientists joined bat experts from the National Park Service and the Organization for Bat Conservation for an evening bat walk around Constitution Gardens during the May 2016 BioBlitz Festival in Washington, D.C.
Using specialized equipment, we were able to "catch" the sounds of echolocation calls produced by bats as they flew overhead. The sounds are translated into frequencies that humans can hear and visually portrayed in a graph, called a spectrogram. The unique pattern of the calls can be used to help identify the species of bat.
At the end of the two hour walk, we detected three different species of bats, right in the middle of downtown Washington D.C.! We identified the Eastern red bat, big brown bat, and silver-haired bat.
Listen to their calls from BioBlitz 2016:

Visit our keyboard shortcuts docs for details
Duration:

6 minutes, 30 seconds
National Park Service wildlife veterinarian Michelle Verant shares expertise on bats and White Nose Syndrome, and engages with BioBlitz participants at the NPS Centennial celebration on the National Mall in Washington, D.C., May 2016.
Last updated: October 26, 2018