Seabird Die-Offs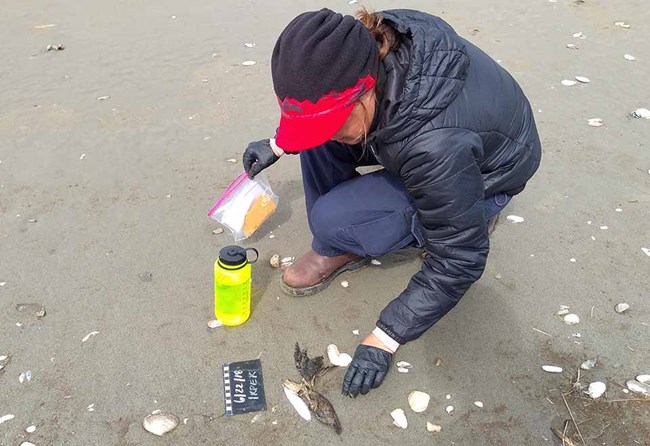 Wreck
is the term used for a massive bird die-off; it seems appropriate.
Although bird die-offs are not uncommon, in fact, El Ni
ñ
o years are often associated with seabird mortality events, Alaska has been experiencing seabired die-offs that are extreme. This year, 2018, is the third year in a row that we have experienced massive seabird die-offs.
Seabirds are good indicators of ocean ecosystem health. Recent mortality events are concerning in that they may be pointing to significant changes in marine ecosystems. Our northern oceans have been experiencing record-breaking, above-average sea surface temperatures. Seabirds eat cold water fish and zooplankton, which are both reliant on cold water. If the cold-water fishes have relocated because the ocean is too warm, or less zooplankton are produced in the warmer water, then the seabirds have a harder time finding enough food. In addition, cold water fish are fattier and provide more calories and nutrients for the birds, so even if they can find warm-water fish to eat, they may still have trouble meeting their calorie needs.
The dead birds appear to have died of starvation. Murres, for example, have a high metabolic rate and consume 10-30% of their total body weight every day. Changes to their food supply can impact basic functions such as flying, feather molt and weatherproofing, and thermal regulation. Seabird die-offs also impact the entire population because of the reduction in breeding adults and the low productivity rate (success of eggs becoming chicks and becoming adults). Some species have experienced reproductive failure because the females are not in good enough body condition to produce eggs.
The die-offs started with a massive event in the fall of 2015-spring of 2016 in the Gulf of Alaska. Last fall, 2017, to this summer (2018), we are seeing die-offs in the Bering and Chukchi seas.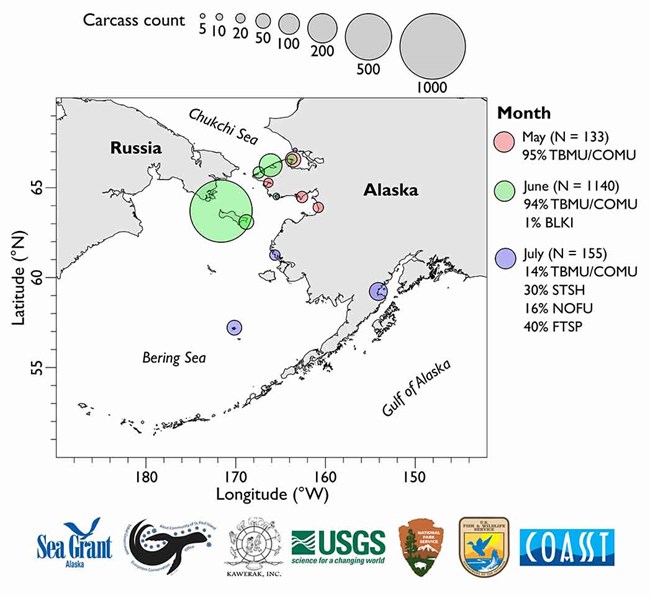 2018 Seabird Die-off
Beginning in May 2018, the U.S. Fish and Wildlife Service (USFWS) and the National Park Service (NPS) began receiving reports of dead and dying seabirds from the northern Bering and southern Chukchi seas, including in the vicinity of the Western Arctic National Parklands.
In late June, NPS investigators found 100 carcasses over a total of 4 km of beach surveyed, most of these being murres along the coast of Bering Land Bridge National Preserve, although other species were found there and in Cape Krusenstern National Monument.
Coastal communities have counted hundreds of dead seabirds that include: murres, fulmars, shearwaters, kittiwakes, auklets, and puffins. Additionally, fork-tailed storm petrels have been observed in large numbers along the coasts of Katmai and Kenai Fjords national parks (including Resurrection Bay), and in Prince William Sound. It is unusual to see this species so close to shore. While carcasses were not observed in these locations, there have been carcasses recorded in Kamishak Bay in lower Cook Inlet and McNeil River Sanctuary.
The USFWS and NPS are coordinating efforts with local communities. To date, all bird carcasses sent to the U.S. Geological Survey National Wildlife Health Center for examination were determined to have died of starvation. There has been no evidence of disease, and tests are pending to determine if birds were exposed to harmful algal toxins.
Since spring, seabird die-offs have been recorded in the Pribilof Islands and the northern Gulf of Alaska. Although die-offs have occurred before, this is unusual due to the number of birds affected, the broad geographic area, and the duration of the event, which is ongoing.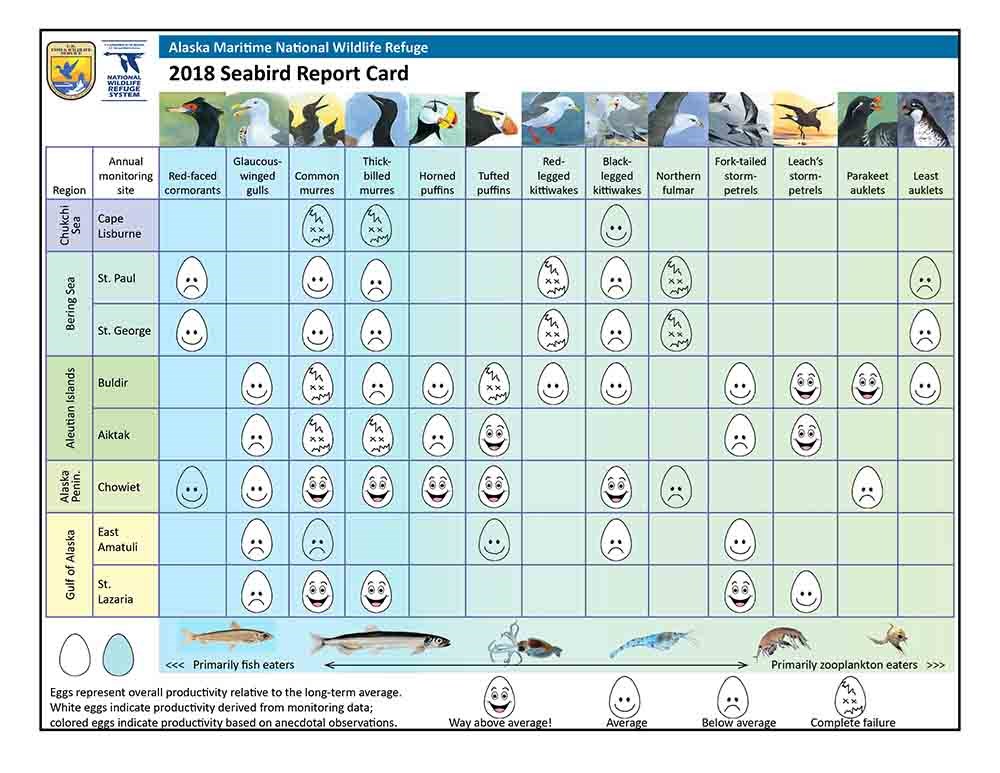 The National Park Service works with many partners to document and understand seabird die-offs. Among our partners are: the
Coastal Observation and Seabird Survey Team
; the U.S. Fish and Wildlife Service Migratory Bird Management Program and the Alaska Maritime Refuge; the U.S. Geological Survey Alaska Science Center, Alaska Fisheries Science Center, and National Wildlife Health Center; the coastal communities of Nome, Unalakleet, Stebbins, Golovin, Kotzebue, and Shshmaref; Native villages of Gambell and Savoonga; Kawerak and Maniilaq Native Corporations; and Alaska Sea Grant provided transboundary reports from Chukotka, Russia.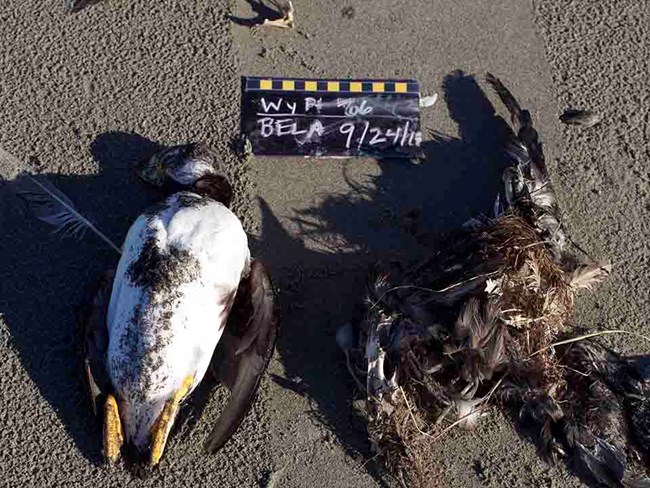 2017 Seabird Die-off
Late summer and early fall of 2017 a seabird die-off happened in the Bering and Chukchi seas of Alaska and Russia. Our scientists worked with other agencies to examine the scale and scope of the event. They counted hundreds of carcasses, documented the species, and sent samples to a lab for analysis. Preliminary data indicate the greatest number of birds impacted were Short-tailed Shearwaters and Northern Fulmars, but other species found include Black-legged Kittiwakes, murres, auklets, gulls, and Horned Puffins. Examined birds ultimately died of starvation or drowning, but underlying factors contributing to the die-off have yet to be determined. Early results from a walrus-stranding event in the Bering Strait that coincided with the seabird die-off indicate that walruses had been exposed to algal toxins, although it's unknown if this contributed to their deaths.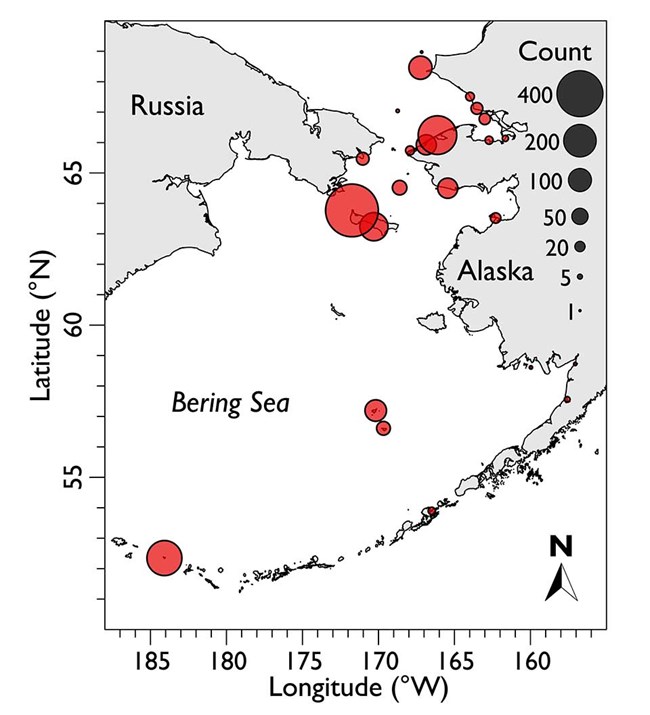 The distribution and density of the seabird die-off in the Chukchi and Bering seas includes the coast of Northwestern Alaska including Bering Land Bridge National Preserve and Cape Krusenstern National Monument, off the coast of Chukotka, Russia, and far out in the Aleutian chain.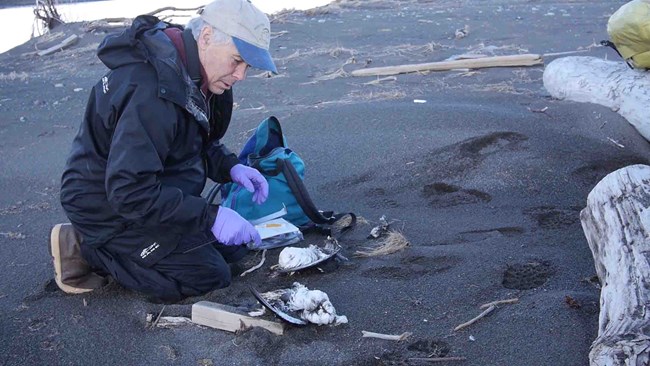 The Common Murre Wreck of 2015-2016
Alaska, and along the U.S. Pacific Coast, saw an unprecedented die-off event of Common Murres between 2015 and into the spring of 2016. Warmer ocean temperatures disrupted prey species distribution and hundreds of thousands of seabirds, mostly Common Murres, died of starvation.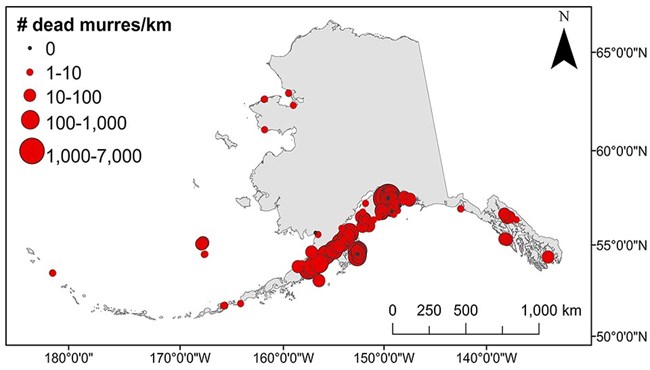 In response to this year-long, wide-spread Common Murre die-off along the Pacific Coast and the northern Gulf of Alaska, we worked along with agency partners (U.S. Fish and Wildlife Service and U.S. Geological Survey) to conduct a winter marine bird and mammal survey in Katmai National Park and Preserve in March 2016. We also surveyed 19 segments of beaches by foot (a combined total of ~12 linear miles) and two offshore islands, and found evidence of the die-off everywhere we looked. We counted over 2,000 seabird carcasses (1,988 murres, 16 Crested Auklets, 2 Least Auklets, 1 Marbled Murrelet, 1 Glaucous-winged Gull, 2 Black-legged Kittiwakes, 2 Cormorants, and 23 unidentified small alcids). Nearly all carcasses were estimated to be on the beach for over 1.5 months, heavily scavenged, and found further inland on the beaches.
Check out this
video
that shows the results from the expedition to Katmai National Park and Preserve.
Last updated: December 5, 2018