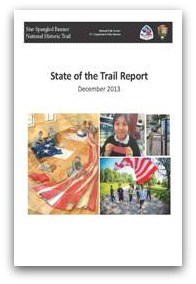 Progress on the Star-Spangled Banner National Historic Trail
This report is a snapshot of the Star-Spangled Banner National HIstoric Trail as of December 2013. It describes interpretive media and programming, access, and resource protection completed or in development that are making the Star-Spangled Banner National Historic Trail visible and accessible to the public.
The National Park Service is working closely with the trail's Advisory Council and national, state and local public and private organizations over the 2013-2015 War of 1812 bicentennial period to integrate our efforts, leverage each others' investments, and promote our projects and programs in ways that capitalize on bicentennial publicity and funding to raise the visibility of the trail and sustain meaningful learning and recreation experiences over the long term.
The following "State of the Trail" report is organized around four key strategies:
Connect people to trail experiences
Improve access to the trail
Conserve landscapes supporting visitor experiences
Build and sustain collaborative partnerships for the trail
In addition to describing our collective accomplishments, this report also identifies near-term opportunities for the NPS, the Advisory Council, and partners to continue to provide interpretation and protect resources over the next two years.
Star-Spangled Banner "State of the Trail" Report, December 2013