Assault on Washington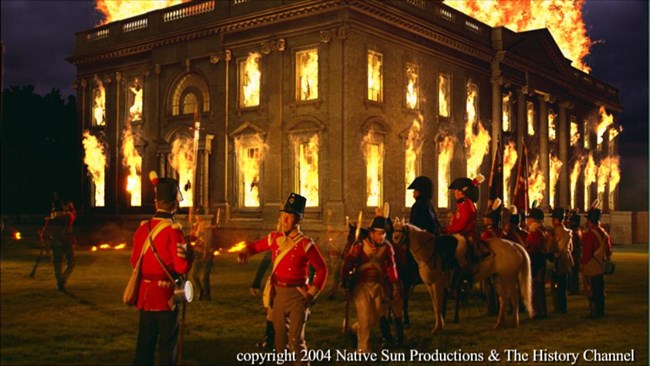 THE ASSAULT ON WASHINGTON, DC
In July 1814, the British launched a three-pronged attack. The main thrust of the British fleet ascended the Patuxent River and landed forces at Benedict to march over land to Washington. The U.S. Chesapeake Flotilla would be used as the pretext for this movement up the Patuxent.
A smaller British fleet entered the Potomac River, in part to make the Americans think that was the direction of the invasion but also to take Fort Warburton (now Fort Washington Park) and provide a water retreat route from Washington if needed by the British land forces. A second feint ascended the Chesapeake to raid the upper Bay north of Baltimore and to further confuse and divert American forces.
At the town of Benedict on the Patuxent River, the British reached the head of navigation for the larger vessels, and by August 20, more than 4,100 troops and marines disembarked to begin their march to Washington. Meanwhile, smaller British warships moved upriver to again engage Barney's flotilla. Under order of the Secretary of the U.S. Navy, Barney destroyed his flotilla near Pig Point when pressured by the British approach. Barney's men were sent to the Washington Navy Yard and participated later in the Battle of Bladensburg.
With the route to Washington largely undefended, the British easily advanced, covering the 30 miles in three days. They chose a route through the town of Bladensburg, as it offered the nearest fordable point across the Eastern Branch of the Potomac (now known as the Anacostia River), and would be crossable if the Americans had burned any bridges.
The Americans set up three defensive lines on the west side of the eastern branch of the Potomac at Bladensburg. The poorly deployed troops, with the exception of the Marines and sailors, were routed and fled in a disorderly manner; the British proceeded into Washington. On August 24-25, the British marched down Pennsylvania Avenue and burned many of the public buildings, including the Capitol and the White House. The printing presses at The National Intelligencer building also were destroyed by the British.
Having observed the disastrous Battle of Bladensburg, President Madison and his Cabinet took the British threat seriously and fled the capital. At the White House, Dolley Madison quickly arranged to secure and remove what documents and treasures she could, among them a portrait of President Washington. Important documents such as the Declaration of Independence and the Constitution were rushed by cart from the State Department in Washington to safety in Virginia.
As the government fled the city, and exhausted American combatants straggled to Baltimore over many routes, the British land forces turned south and rejoined the fleet at Benedict. The fleet sailed down the Patuxent and then northward up the Chesapeake Bay to begin an attack on Baltimore.
Last updated: February 26, 2015