Curricula
Defense of a Nation: Maryland's Role in the War of 1812 - A Teacher's Guide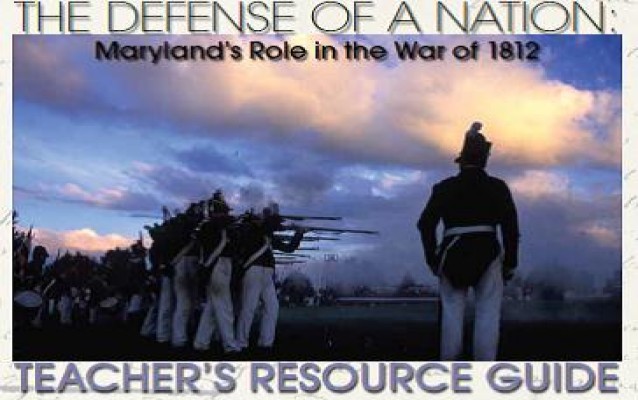 This guide serves as a single-source text and reference for conducting classroom history lessons on the War of 1812, and the role that Marylanders played in our nation's second war for independence. It is especially organized for teachers of pre- and post-secondary grade levels. Users are encouraged to also take advantage of the 1812 Virtual Resource Center that has been created by Fort McHenry National Monument and Historic Shrine, in partnership with the Star-Spangled Banner National Historic Trail and Maryland Public Television (MPT).
Information provided in this guide will help make teaching this important history easy and accessible. The guide presents the major players in the war, its major battles, direct quotes from eyewitnesses, and information on additional resources.
Worksheets are provided to help students interpret and analyze key causes and results of the war through pictures and documents from primary and secondary sources. A guide to the holdings of the Library of Congress is also included for those who wish to conduct research or write a paper on aspects of the war and its subjects. This section also provides an extensive list of websites of interest both to students and teachers. This guide meets the standards set by the Maryland State Department of Education. Although this guide was created for history teachers, others may also find it useful for sharing the stories of the War of 1812 with a wider audience. The guide's depth and breadth can be used as a resource for newspaper and newsletter articles to help inform the public, as the state prepares to commemorate the bicentennial.
Details
Subject:

African American History and Culture, Education, History, Maritime History, Military and Wartime History, Naval History, U.S. First Ladies, U.S. Presidents, War of 1812

National/State Standards:

Historical Investigation, Use of Primary Source Documents, American History

Keywords:

war of 1812, Star-Spangled Banner, Star-Spangled Banner Flag, National Anthem, Francis Scott Key, Battle of Baltimore, baltimore, Chesapeake, Chesapeake Campaign, Chesapeake Bay, Baltimore National Heritage area, Fort McHenry

type:

Curricula
Last updated: February 26, 2015