Curricula
Documents for the Classroom from the Maryland State Archives-The Battle of North Point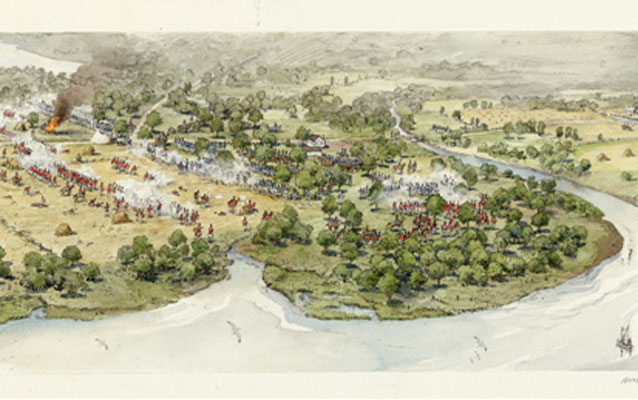 Documents for the Classroom:  The Battle of North Point, September 12, 1814
Teaching American History in Maryland is a collaborative program of the Maryland State Archives and the Center for History Education (CHE), University of Maryland Baltimore County (UMBC), and the following sponsoring school systems: Anne Arundel County Public Schools, the Baltimore City Public School System, and Baltimore County Public Schools.
Other program partners include the Martha Ross Center for Oral History, Maryland Historical Society, State Library Resource Center/Enoch Pratt Free Library, with assistance from the National Archives and Records Administration and the Library of Congress. The program is funded through grants from the U.S. Department of Education.
The State Archives of Maryland seriesTeaching American History in Maryland: Documents for the Classroomwas researched and developed by Dr. Edward C. Papenfuse, Maryland State Archives, Dr. M. Mercer Neale, Boys' Latin School, and Nancy Bramucci, Maryland State Archives, with the assistance of Lynne MacAdam, Maryland State Archives, and graduate students in the Public History Program at the University of Maryland Baltimore County (UMBC).
Documents for the Classroommakes facsimiles of original documents available for use by teachers and students in elementary and secondary schools, as well as colleges and universities.
Access to materials linked within these document packets is intended for educational and research purposes. The written permission of the copyright owners and/or holders of other rights (such as publicity and privacy rights) is required for distribution, reproduction, or other use beyond that allowed by fair use or other statutory exemptions. The responsibility for making an independent legal assessment and independently securing any necessary rights rests with persons desiring to use particular items in the context of the intended use.
The Battle of North Point
The Battle of North Point took place on September 12, 1814 as British troops marched towards Baltimore and were met by Maryland militia.  These
downloadable primary source documents
help students explore the battle and its outcomes, the stories of the particpants and how history remembers the battle and the War of 1812.
Additional Resources
Other Document collections related to the War of 1812 include:
Details
Subject:

History, U.S. First Ladies, U.S. Presidents, War of 1812

National/State Standards:

National History Standards:
Topic 2:  The History of the Students' Own State or Region
STANDARD 3:  The people, events, problems, and ideas that created the history of their state

Keywords:

war of 1812, Battle of North Point, Battle of Balitmore, Fort McHenry, Star-Spangled Banner, Star-Spangled Banner Flag, General Robert Ross, Chesapeake Bay, Chesapeake Campaign

type:

Curricula
Last updated: February 26, 2015