Star-Spangled Banner Geotrail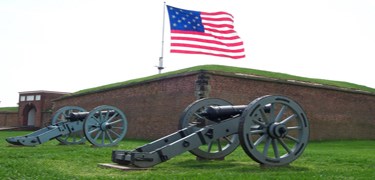 Launched in Spring 2010, the Star-Spangled Banner Geotrail is a unique journey through American history and across the landscapes of the Chesapeake Bay.
Participants can explore more than 30 forts, museums, battlefields, ships, parks and preserves, each with its own story to tell about the War of 1812.
Intended to complement and promote the Star-Spangled Banner National Historic Trail, the Geotrail commemorates the dramatic chain of events, people and places that led to the birth of our National Anthem during the War of 1812. This first-of-its-kind, multi-state initiative is supported by Friends of Chesapeake Gateways, the Maryland Geocaching Society, and the National Park Service.
Geocaching, pronounced "geo-cashing," is a worldwide phenomenon in which participants use a hand-held GPS (Global Positioning System) to locate a hidden "cache." Searching for a cache is akin to going on a treasure hunt and can involve clues, riddles and visits to multiple locations.
A "geotrail" is a series of caches tied together by a common topic or theme. The Star-Spangled Banner Geotrail includes more than thirty diverse sites that are all part of the landscape of the War of 1812 in the Chesapeake region. Some hold national prominence, others reflect the all-encompassing nature of the struggle, during which the British raided and burned communities in Maryland, Virginia and even our nation's capital. In addition, the majority of participating locations are also designated Chesapeake Bay Gateways and Watertrails, special places that share the story of the Bay and its Rivers.
To participate in the adventure, a geocacher must access the official geocache website at www.Geocaching.com. A basic membership is free.
Once an account is established, the geocacher can use the advance search function to locate the Star-Spangled Banner account and retrieve the map coordinates for each Star-Spangled Banner Geocache. When searching, type in "Star-Spangled Banner" under "By Username (Hidden)" in the advance search function. The next step is to head outside with a GPS to find geocaches along the Star-Spangled Banner Geotrail!
For more info visit the the Star-Spangled Banner Geotrail's profile on geocaching.com or the Maryland Geocaching Society, at www.mdgps.org
Last updated: October 4, 2019