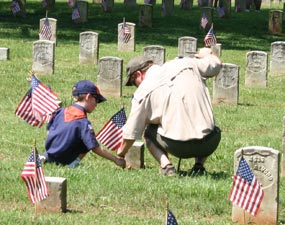 Decoration Day (May 27, 2017 - 10 AM) - Scouting organizations from middle Tennessee will place American flags on more than 7,000 graves in Stones River National Cemetery.
Participants will park near the visitor center and are encouraged to arrive by 9:30 AM. We encourage participants to carpool. Some participants may have to park along the tour road and walk to the cemetery. Parking in the cemetery will be reserved for participants with accessibility needs. Please display your placard so the ranger at the gate can see it as you approach. No drop-offs will be permitted at the national cemetery entrance.
All groups will register as they enter the national cemetery. Groups will receive flags and a section assignment during registration. Volunteer groups may pre-register for a commemorative patch through the Middle Tennessee Council Boy Scouts of America.
Memorial Day Service (May 28, 2017 - 1:30 PM) - Visitors are invited to gather at the national cemetery rostrum to remember the sacrifices of soldiers, past and present. The event will include patriotic music, a wreath laying ceremony and a reading of the names of veterans who have passed away since last Memorial Day.