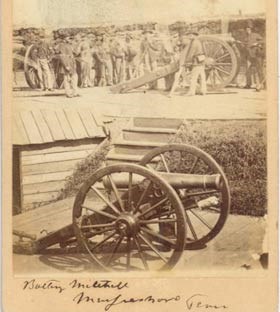 Stones River National Battlefield will present an encampment and living history programs at Fortress Rosecrans on Saturday October 15, 2011. These programs will help visitors understand the turbulent times of the Union occupation following the Battle of Stones River.
Fortress Rosecrans was one of the largest earthen forts built during the Civil War, and its construction was one of the most important strategic results of the Battle of Stones River. It served as a strongpoint and supply base for the Army of the Cumberland as it moved south to Chattanooga, Tennessee in 1863 and continued to protect the Federal supply lines during the Atlanta Campaign and the March to the Sea. The Fortress and its garrison also impacted the lives of civilians living in and around Murfreesboro.
PROGRAM SCHEDULE
10 AM - Covered By Cross-fires: Watch artillery and infantry work together as you learn how the garrison planned to defend the fortress against a Confederate attack.
11 AM - Lines of Communication: Learn how the Signal Corps kept the far-flung Federal garrisons in middle Tennessee in touch with each other as they demonstrate the uses of their equipment.
1 PM - Announcing Their Presence: Visitors will watch a cannon and muskets fire and learn how the Union army used physical and psychological threats to control Murfreesboro.
2 PM - Lines of Communication
3 PM - Limber Up: Watch artillery and infantry demonstrations and learn about the critical role played by Fortress Rosecrans in the campaigns during the summer and fall of 1863.
In between the scheduled programs, visitors are welcome to talk with the Provost Marshal and discover how the Union army controlled civilians and soldiers. The Quartermaster will amaze visitors with the daunting task faced by the men who supplied the army, while Mrs. Hollie McFadden will share the story of her struggle to maintain her family and farm during the Union occupation.