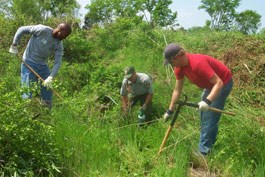 February 22-28, 2009 is the tenth annual National Invasive Weed Awareness Week. This is the first year Tennessee will join the rest of the nation in this annual event to fight invasive exotic plants.
Exotic invasive species pose a severe threat to natural and historic areas throughout the United States causing land management agencies to spend millions each year to manage introduced species.
On February 28, 2009 the National Park Service and the Tennessee Exotic Pest Plant Council, will combat exotic invasive plants at Stones River National Battlefield. We need volunteers to fight against these invaders! For more information about this volunteer opportunity, CLICK HERE.