Field Trips
Walking the Trail of Tears in middle Tennessee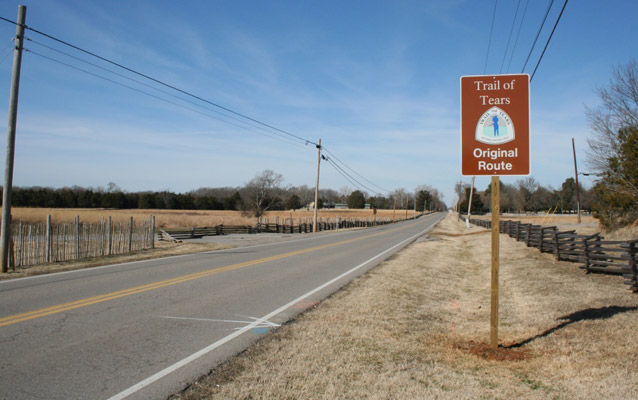 Description
Classwork prior to visiting Stones River National Battlefield should include studies on the numerous treaties signed by the colonies, United States, and the Cherokee people dating back to the Treaty of Sycamore Shoals in 1775. A list of relevant treaties and links to useful literature is provided below.
At Stones River National Battlefield students will gather at the visitor center for a brief orientation about the history of the park and a summary of the day's activities. Restrooms and water are available if needed. Students will then travel by bus to the General Bragg Headquarters pavilion about a mile south on Old Nashville Highway. At the pavilion a ranger will discuss the history of Native Americans in middle Tennessee, the events that led up to the Indian Removal Act of 1830, the Supreme Court decision regarding Cherokee Nation v. the State of Georgia, the role President Andrew Jackson played in the decision to relocate the Native Americans, and the specific route of the Trail of Tears.
Students, using primary documents, will discuss why they think the Native Americans were removed, if they would have done things differently, what alternatives the United States had, and what lessons they have learned from studying the Trail of Tears.
The students will then proceed north on the greenway adjacent to Old Nashville Highway, stopping at old tollbooth site for meaningful interpretation. Students will continue walking to Tour Stop 1, then Tour Stop 3, then return to the visitor center for lunch, bookstore visit, restrooms, etc. The entire program should not take more than two hours from the time the students leave the visitor center to the time they return.
Details
Subject:

American Indian History and Culture

National/State Standards:

CCSS.ELA-Literacy.RH.9-10.3, CCSS.ELA-Literacy.RH.9-10.4, CCSS.ELA-Literacy.RH.9-10.9, CCSS.ELA-Literacy.RH.11-12.2, CCSS.ELA-Literacy.RH.11-12.3, CCSS.ELA-Literacy.RH.11-12.7

type:

Field Trips