National Public Lands Day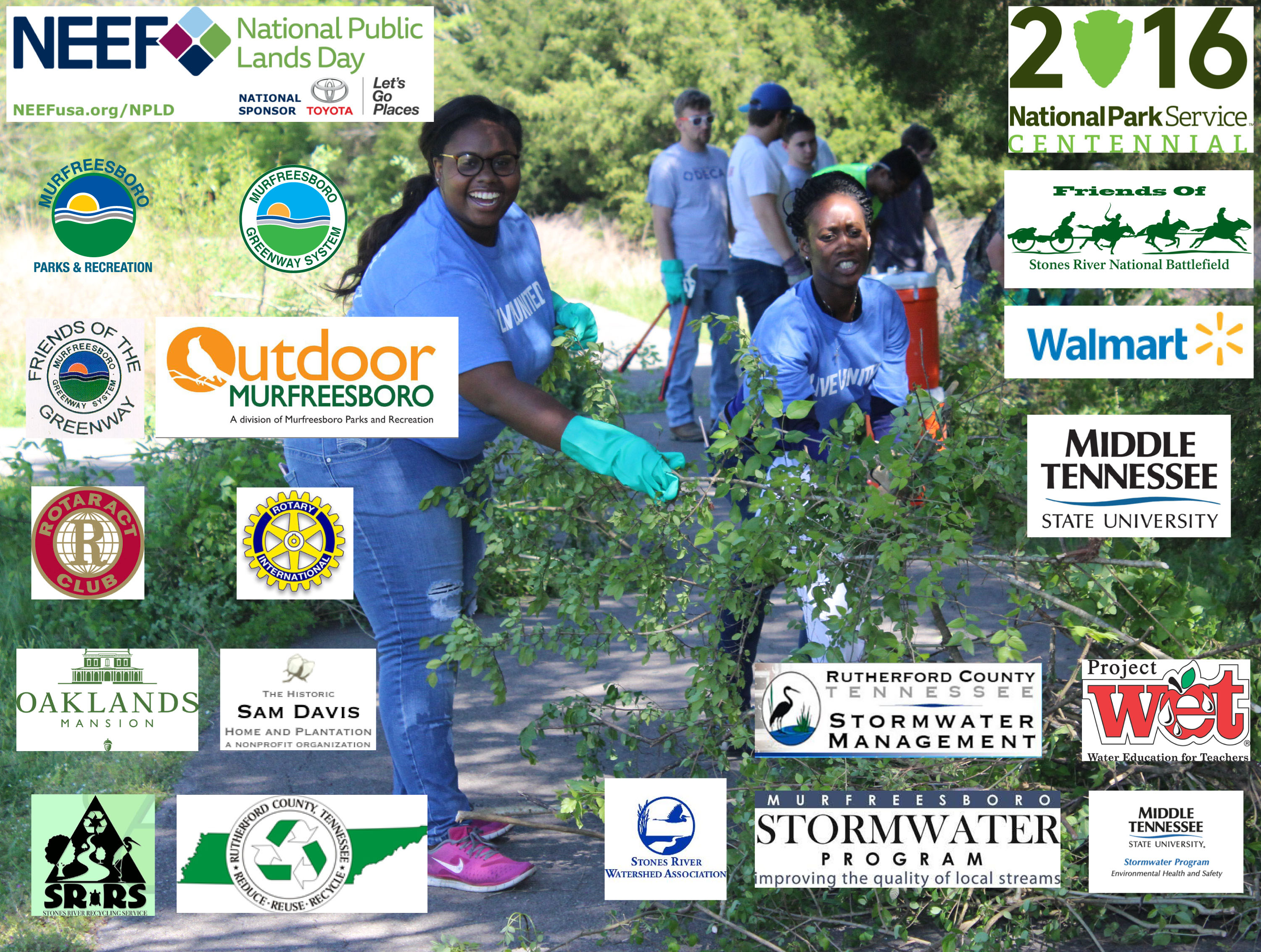 On Saturday September 24, 2016, we're putting the PUBLIC into National Public Lands Day in Rutherford County!
Stones River National Battlefield, joined by more than a dozen partners representing a variety of concerns about our community's history and environment, invites residents to join us for a morning dedicated to properly managing the lands and waterways that are a critical to our quality of life in Murfreesboro and Rutherford County.
We will join thousands of volunteers across the nation working to preserve and improve our public lands. National Public Lands Day is the nation's largest single-day, hands-on volunteer effort to improve and enhance the public lands Americans enjoy. It is sponsored by the National Environmental Education and Training Foundation in partnership with Take Pride in America®.
We will remove invasive exotic plants and pick up trash in Old Fort Park, along the Lytle Creek Greenway and at Fortress Rosecrans. In the process, we will improve the condition of our national and city parks as well as the critical watersheds of Lytle Creek and the Stones River.
The plans are in place, now we need you, the public to join us at 8:30 AM on Saturday September 26, 2015 for registration at Picnic Pavilion #2 in Old Fort Park. Volunteers should bring work gloves and wear long sleeved shirts, work pants, and closed toe shoes.
Lunch will be provided at noon by Walmart and the Friends of Stones River National Battlefield.
When: Saturday September 24, 2016 — 8:30 AM to 12:30 PM
Where: Meet at Picnic Pavilion #2 at Old Fort Park, Murfreesboro
What to Bring: Work boots or closed toe shoes, long-sleeved shirt, work pants, and work gloves
To sign-up early or find out more you can e-mail us or call 615-893-9501.
Last updated: September 7, 2016