National Park Foundation Park Stewards Program
Attention High School Teachers!
Join us for an exciting opportunity to teach students about national parks through volunteer service.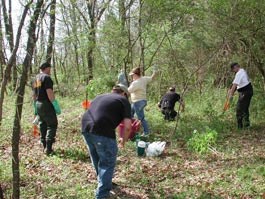 The National Park Foundation is pleased to announce that we are accepting applications from National Park areas (defined as all sites administered by and/or affiliated with the National Park Service including, but not limited to, national scenic and historic trails, national heritage corridors/areas, etc) to participate in the 2010-2011 National Park Foundation's Park Stewards Program.
The Park Stewards Program provides opportunities for high school teachers to connect resources in a national park to their classrooms through a service learning/volunteer program. The program gives high school teachers and students the opportunity to explore the relevance of national parks to their lives, and encourages them to become civically engaged stewards of their national parks.
Service learning is experiential learning in which students apply academic knowledge and critical thinking skills (in addition to physical skills as appropriate) to address genuine needs of the park and help advance the parks' mission.
Each National Park unit that is interested in applying for the Park Stewards grant shall have pre-identified:
1. A high school teacher to partner with;
2. A topic or area of need to focus on for the service-learning project;
3. Expected outcomes for the service-learning project.
If you are a high school teacher interested in developing a proposal for this grant, please contact Education Coordinator John McKay at e-mail us.
Last updated: April 14, 2015