How cool would it be to be a park ranger?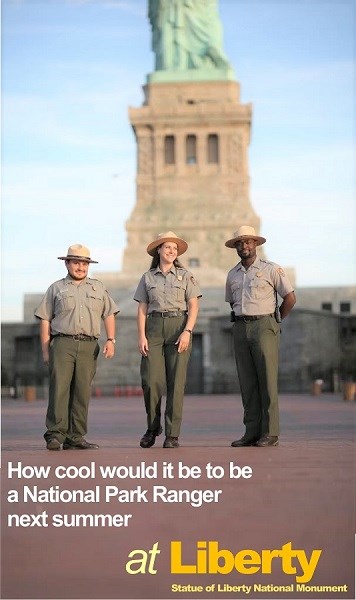 The Statue of Liberty and Ellis Island National Museum of Immigration are looking for summer seasonal help next year. We are accepting applications for Park Ranger and Park Guide positions RIGHT NOW through 11:59 PM, Eastern Standard Time, this Friday.
Park Guide - https://www.usajobs.gov/GetJob/ViewDetails/547538100
Park Ranger - https://www.usajobs.gov/GetJob/ViewDetails/54753670
Positions start in mid-April/mid-May and run through mid-October/mid-November. They are full time positions lasting 3-6 months. They do not lead to permanent jobs.
TIP 1: Use the USAJobs Resume builder to start your application – you can cut, copy and paste into your favorite word processing software if you want. The Resume builder asks the questions that HAVE to be answered in order to apply for a federal job.
TIP 2: Make sure you select "New York" because that is where the Statue of Liberty is located.
TIP 3: Do not select you want park housing. We do not have any to offer AND your application WILL not be forwarded to us.
Come enlighten the world as a future National Park Service employee!
Last updated: November 4, 2019