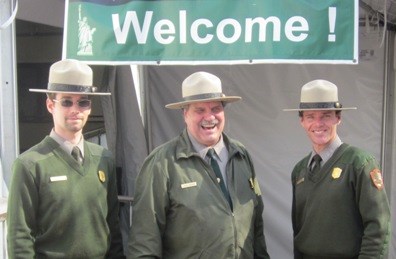 All Aboard! Inspections are Mandatory and for Your Safety
Visitors and their belongings are subject to inspection. The National Park Service appreciates your patience and understanding of these procedures and the additional time that may be required.
What is the Security Screening Process?
Visitors to the Statue of Liberty and Ellis Island must pass through primary security screening (similar to airport security procedures) before boarding the ferry system.
It is recommended that you include ample time and maintain a flexible schedule to include security screening and boarding the ferry.
Please keep in mind that wait times can be several hours, particularly during peak seasons.
Please note that there are no locker storage areas at the screening facilities in either Battery Park or Liberty State Park.
We Don't Allow Them, So Please Don't Bring Them
ALL weapons, including firearms, knives (including pocket knives and pen knives), mace (or pepper spray), any dangerous items, and any "dual-use" items that could be dangerous are strictly prohibited in the park and on the ferry system.
Scissors, sharp instruments, and tools are prohibited.
Do not carry any of these types of items into the security screening area. Items that are confiscated will not be returned. If you are unsure about an item, please do not bring it.
LARGE packages, suitcases, carry-on luggage and other large parcels will not be permitted on the ferry systems or at Liberty and Ellis Islands.
Security While on Liberty Island
Tickets to visit the pedestal and crown can be reserved in advance by visiting www.statuecruises.com.
A "Monument Ticket" or "Pedestal Ticket" is needed to enter the monument. If you have access to the monument, your ferry ticket will have one of the following phrases printed on it: Monument Access, Pedestal Access, Monument Walk-up, or Pedestal Walk-up.
All visitors with monument or crown access must pass through secondary screening on Liberty Island before entering the monument.
Secondary screening is similiar to the security process brfore boarding ferries on mainland.
Wait times for secondary screening may approach one hour, especially during the summer and holiday periods.
Lockers, for small prohibited items, are available at Liberty Island for a nominal fee.
Items NOT permitted into any level of the monument include: food and beverages (water included), backpacks including backpack style purses and drawstring bags, strollers, large umbrellas, laptop computers, i-pads, e-readers, tripods. These items can be checked and stored in the locker area.
Cameras, handbags, and small personal items are permitted.
Please keep in mind that eating, drinking, and smoking are strictly prohibited inside the National Monument.
During the summer and holiday periods we suggest planning ahead and making reservations early.
All visitors must keep bags, packages, strollers, etc. with them at all times. Do not leave any items unattended at any time.
Is There Security Screening at Ellis Island Too?
All ferry tickets include complete access to museum at Ellis Island.
There is no security screening for visitors to Ellis Island once on the island. However, visitors and their belongings are subject to further inspection if suspicious activity is reported.
Thank you for your cooperation - safety is everyone's responsibility. If you SEE something SAY sommething to a US Park Police, a park ranger or law enforcement officer.
Still Have a Question?
If you have any questions regarding security procedures, please contact the park in writing prior to your visit at: National Park Service, Statue of Liberty National Monument, Liberty Island, NY, NY 10004, Attn: Division of Interpretation & Visitor Services; or e-mail.