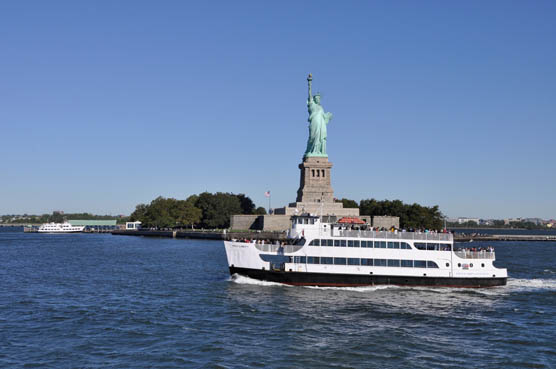 News Release Date:
August 30, 2013
Contact: John Warren, 917-299-3843
NEW YORK, N.Y. – Statue of Liberty National Monument has reopened the work dock on Liberty Island, a few days after a visitor ferry struck the side of the dock.
Engineers from the Federal Highway Administration inspected the dock late Wednesday. Inspectors reported that the fender system protected the dock from any significant damage. Based on the inspection findings, the dock is considered safe for use. Their findings were transmitted to the Captain of the Port of New York/New Jersey, United States Coast Guard (USCG), who authorized the reopening of the dock.
"Visitor and employee safety is our first priority," said Superintendent David Luchsinger. "This summer, the National Park Service worked with the Department of Transportation's Federal Highway Administration to rebuild the work dock after Hurricane Sandy, making it as strong and safe as possible. Clearly the dock did its job. We will continue to work hard to make Liberty Island a safe, enjoyable place to visit."
On Tuesday, August 27 at approximately 3:10 P.M., the Miss New Jersey struck the side of the work dock upon arrival at Liberty Island. Statue Cruises, which runs the ferry, reported that 497 passengers and nine crew members were on the vessel at the time, which had originated at Battery Park in lower Manhattan. All visitors were cleared from the ferry, which sailed away under its own power. The vessel will remain out of commission until it has passed inspection. The cause or causes of the accident remain under investigation by USCG.
National Park Service emergency medical technicians (EMTs) immediately arrived on the scene and treated eight visitors, all of whom continued their tours of Liberty Island. Injuries included scratches, bruises and one sprained ankle.
Visitor services were minimally affected after the incident. All ferries docked at a temporary barge located near the visitor dock, which remains under repair after Hurricane Sandy. The temporary barge normally serves passengers from New Jersey.
Liberty Island and the Statue of Liberty reopened to the public on July 4, 2013. For information on visiting the park, see https://www.nps.gov/stli/planyourvisit/index/htm.