Other Resources - Offsite Educational Programs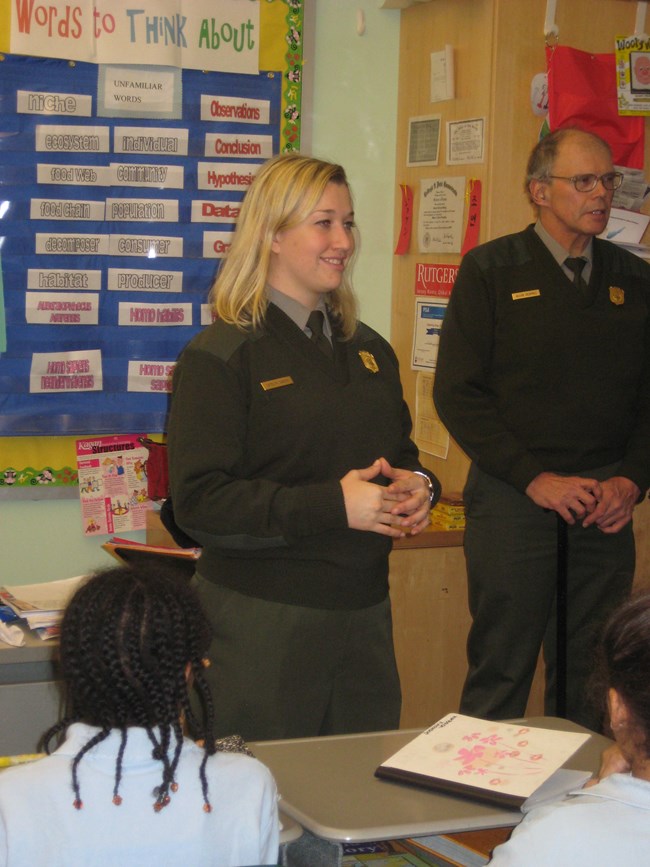 Liberty Enlightening Your School
The Statue of Liberty National Monument is pleased to offer a pilot program that will provide children in local public schools the opportunity to learn about Lady Liberty from National Park Service Rangers in their classrooms. The programs will be presented at designated Abbott school districts in Hudson Country, NJ. Any interested teachers from public elementary schools in Jersey City, Harrison, Hoboken, West New York or Union City are encouraged to arrange a program.
The lesson will investigate the symbolism of the Statue of Liberty, as well as historical information. Each presentation will be delivered to one class at a time and will run for approximately 45 minutes. Multiple programs can be completed in each school per day and will utilize 1-3 park rangers. The lessons have been created to meet NJ Core Curriculum Content Standards for grades K-4 with activities that are developmentally appropriate for each grade.
Programs will include activities in a variety of disciplines including: Social Studies, English, Language Arts and Visual Arts. The National Park Service will work to establish a partnership between rangers and public school teachers, working together to create lessons that are meaningful to both the NPS and the schools. The program will be offered free of charge, on Tuesdays starting at approximately 10:00 am, for the remainder of the school year. Lesson plans and activities have been developed and are available upon request.
If you have questions regarding this program or wish to make a reservation, please call (212) 363-3200, x211, or click here to send an e-mail.


Last updated: February 26, 2015