Lady Liberty Celebrating 125th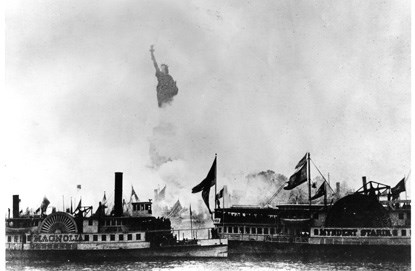 125th Anniversary of the Statue of Liberty; Honor History, Envision the Future
The Statue of Liberty, 'Liberty Enlightening the World,' was a gift of friendship from the people of France to the people of the United States and was dedicated on October 28, 1886, designated as a National Monument in 1924 and restored for her centennial on July 4, 1986. The 1886 dedication was attended by President Grover Cleveland, who proclaimed on that day that 'Liberty' would "magnify France beyond the seas." The dedication was followed by a fireworks display and New York City's first ever 'Ticker Tape' parade.
The NPS theme for the 125th anniversary events is 'Honor History, Envision the Future.' The program for the day is jointly sponsored by the National Park Service and their proud partners at the Statue of Liberty and Ellis Island Foundation, the Coca-Cola Company and Macy's. The park intends to re-create, to the greatest extent possible, the actual program that guided that day's events 125 years ago. The day will include a naturalization ceremony musical performances, a gun salute, a U.S. Coast Guard sponsored Flotilla, FDNY Fireboat water spout display, a presentation of "Gifts of Friendship" to a representative of the French government, and the ceremonial 'lighting' of the new 'torch webcam' that will showcase views of NY Harbor and the Statue from the vantage point of Lady Liberty's torch. For the 75th year, Ladies Auxiliary will honor the Statue of Liberty with a program that includes music and speeches. The day will conclude with a Macy's fireworks spectacular surrounding Liberty Island to mark the anniversary. The fireworks will be viewable from Brooklyn, Lower Manhattan, and Liberty State Park as well as from live feeds from the new 'torch cam' to viewers around the world. The fireworks will begin at 7:45 pm and last approximately 12 minutes. Win1010 will be airing the musical score that was written to accompany the fireworks.
Main Ceremony: 10 AM - 12 PM, Liberty Island, Main Stage near Flag Pole
Be Social, Join the Conversation!
The interpretive staff on Liberty Island has a team of rangers that have been using social media to engage audiences in park events, history and happenings. They will be covering the events on October 28 live using a variety of social media. Share the links with your friends and join the buzz and conversation.
https://www.facebook.com/statuelibrtynps
https://www.twitter.com/statuelibrtynps
Links to more information about the Statue's 125th anniversary celebration:
What else was going in the world during the Statue's 125 years here in America?
The Statue of Liberty's first web camera, affectionately known as the "Torch Cam", will go LIVE during the celebration. You can learn more about it here!
You can find higher-resolution versions of these, and more, pictures by going to our Flickr page!
Last updated: May 16, 2022