Delaware Water Gap Borough Excursion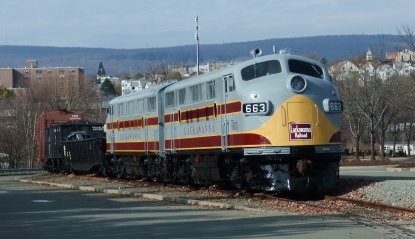 Steamtown NHS offers a seasonal 104-mile roundtrips to Delaware Water Gap Borough. Excursions are expected to operate with historic diesel locomotives. These all-day trips cross the beautiful Pocono Plateau, through a tunnel, along creeks and rivers, past lakes and ponds, and through East Stroudsburg on their way to the historic town of Delaware Water Gap.
Excursion fares are $54/$49/$32; children 5 and under require a "no charge" ticket and must be accompanied by adults. Departs Steamtown at 9 am and returns to the park at approximately 5 pm. Reservations are expected to open when the schedule has been finalized; phone 570-340-5204 daily, 9 am - 4 pm. Internet / email sales are NOT available.
Last updated: July 25, 2017