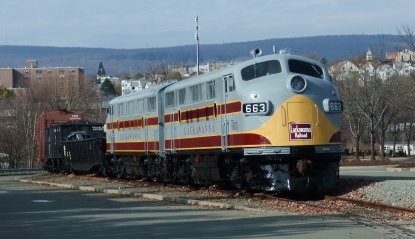 Steamtown NHS offers 104-mile roundtrip excursions, powered by a historic diesel locomotive, to East Stroudsburg, Pennsylvania.

The excursions follow Roaring Brook, through Nay Aug Tunnel, cross numerous bridges and pass alongside ponds and lakes onto the Pocono plateau, then down the dramatic grade (hill) between Pocono Summit and East Stroudsburg.
East Stroudsburg Borough originally was the industrial center of Monroe County due to the former Delaware, Lackawanna & Western railroad. Now it is home to the two largest service institutions in the county, East Stroudsburg University and Lehigh Valley Hospital-Pocono. Enjoy the hospitality of this charming Poconos town during the stop at East Stroudsburg, where food and drink will be available for purchase throughout the downtown.
Excursion fares are $54/$49/$32; children 5 and under require a "no charge" ticket and must be accompanied by adults. Departs Steamtown at 9:30 am and returns to the park at approximately 4:30 pm. For reservations, phone 570-340-5204 daily 9 am - 4 pm. Internet / email sales are NOT available.