Scranton Limited and Nay Aug Limited Short Train Rides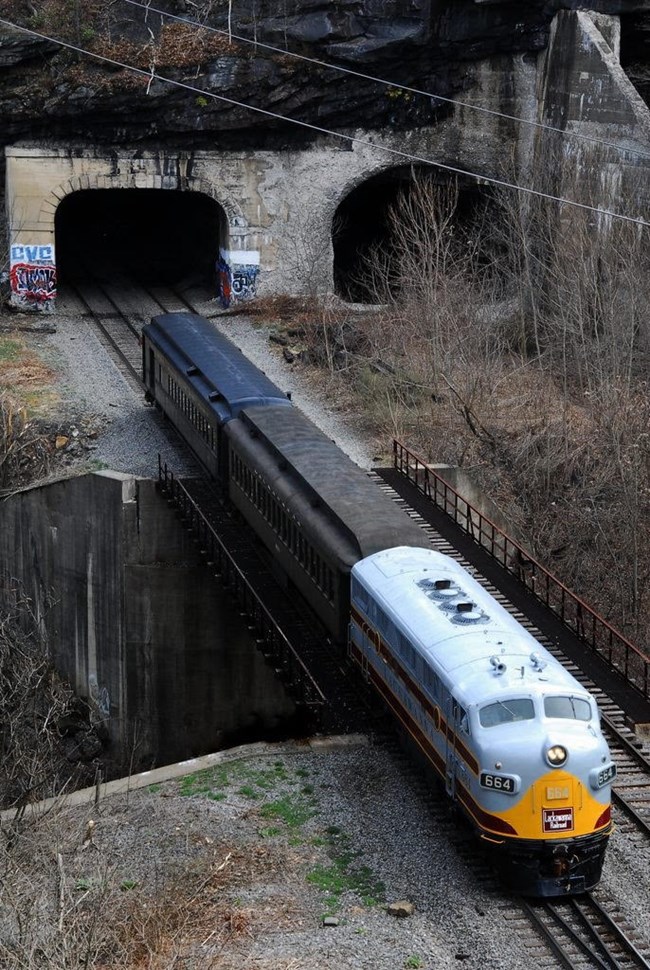 Join a park ranger or volunteer for a 30-minute ride within the rail yards at Steamtown NHS! This brief ride allows the park visitor an overview of the former Delaware, Lackawanna & Western Railroad Scranton Yards, including a view from Bridge 60 over the Lackawanna River.

On select Sundays, the "Scranton Limited" train ride becomes the "Nay Aug Gorge Limited," traveling just a bit further out of the yards to the entrance of Nay Aug Tunnel.

The coaches used for both train rides are former commuter coaches dating to the 1920s-1930s, and are neither air-conditioned nor heated; please dress appropriately for your visit. Cost for either the "Scranton/Nay Aug Gorge Limited" train ride is $5/person, all ages 6 and older. The short train rides are available on a first-come, first-served basis; reservations are not accepted.
Click on our monthly Scheduled Programs for tentative operating days/times. Note that train rides will operate with either a historic steam or diesel locomotive (subject to equipment, crew and track availability).
Refund Policy
In the event you miss your Short Train Ride (yard shuttle), we can put you aboard the next shuttle as long as the train is not sold out or was the last train of the day.
If you miss the train for a special event or excursion program, tickets cannot be refunded or transferred.
If you miss the return ride from a special event or excursion program, you are responsible for getting transportation back to your point of origin.



Last updated: November 5, 2018