Scranton Limited and Nay Aug Limited Short Train Rides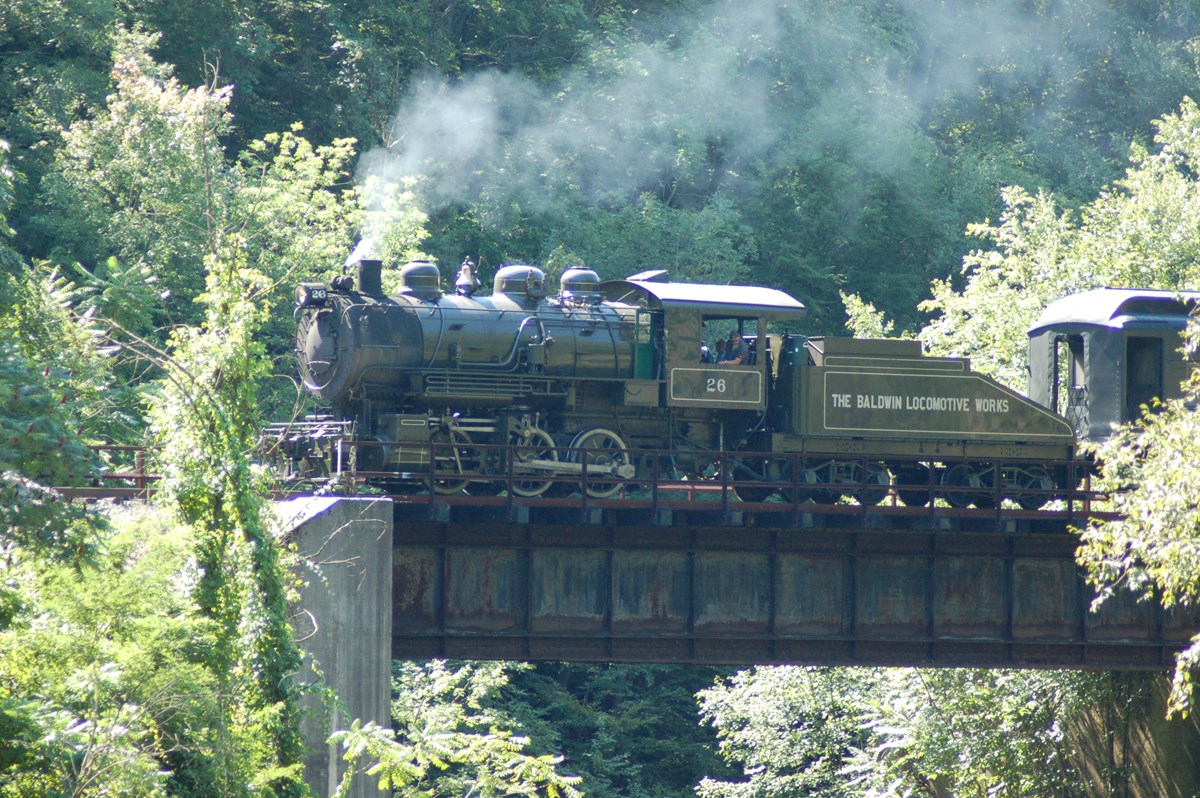 Return of Train Rides Delayed
(Aug 2021 Update)
Steamtown National Historic Site (NHS) has unfortunately had to delay the return of the "Scranton Limited" and Nay Aug Limited train rides due to malfunctioning equipment on the turntable, a key component to operating steam locomotives. Replacement parts have been ordered and like many, we are subject to shipping delays for this specialized piece of equipment. The safety of our visitors, employees, volunteers, and partners continues to be paramount. Prior to visiting the park, check the "Alerts" for up-to-date information on operations.

In preparation for the return of train rides at Steamtown, our volunteer crews have been working hard to complete their annual hands-on training required by the Federal Railroad Administration (FRA), Northeast Operating Rules Advisory Committee (NORAC), and National Park Service (NPS). Steamtown's train operations rely heavily on the commitment of our volunteers, and without them, these popular visitor services would not be possible. We thank our hardworking volunteers for their dedication. We are hopeful for a swift resolution and appreciate your patience.

In addition to training and annual certification requirements, operations at Steamtown NHS must follow federal policy and guidance as issued by the Department of the Interior (DOI). As such, Steamtown NHS works closely with the NPS Office of Public Health to monitor and respond to the COVID-19 pandemic using the latest science to support decision making. Consistent with CDC recommendations, people who are not yet fully vaccinated must continue to wear masks indoors and in crowded outdoor spaces. Consistent with CDC guidance, visitors to Steamtown, regardless of vaccination status, are required to wear a mask on all forms of enclosed public transportation. Individuals looking to get COVID-19 vaccine can visit vaccines.gov or text their zip code to 438829 to find a location close to them and make an appointment.

Please note: Visitor services available are subject to change depending on local (Lackawanna County) COVID-19 levels.
Refund Policy
In the event you miss your Short Train Ride (yard shuttle), we can put you aboard the next shuttle as long as the train is not sold out or was the last train of the day.
If you miss the train for a special event or excursion program, tickets cannot be refunded or transferred.
If you miss the return ride from a special event or excursion program, you are responsible for getting transportation back to your point of origin.


Last updated: August 3, 2021