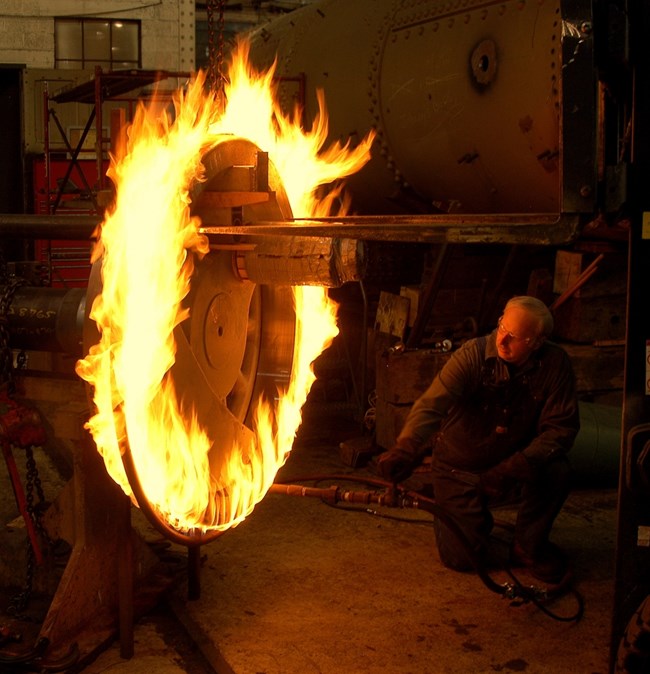 Ring of Fire Demonstration
Arts on Fire Festival
Scranton Iron Furnace State Park
Cedar Avenue, Scranton
We will perform a Ring of Fire demonstration twice daily at the "Arts on Fire" event on Saturday, June 2 and Sunday, June 3. The event is being held at the Scranton Iron Furnace State Park, Cedar Avenue in downtown Scranton.

From the "Arts on Fire" website: "Curious what the Ring of Fire is all about? Mark Brennan, Chief of Visitor Services & Public Affairs at Steamtown describes the process as follows:
'There are hundreds of parts of a steam locomotive that wear out - wheels included. In order to replace the wearing parts of wheels, a tire is applied to the locomotive over the locomotive wheel. Replacing this tire is much less expensive than replacing the whole wheel. The tires are held in place by shrinking them onto the wheel. The tire is machined so that the inside diameter is slightly smaller than the wheels outside diameter. Then, the tire is heated with a "ring of fire"- a series of ignited gas jets. In a short time, the tire is heated to about 350 degrees Fahrenheit. This expands the tire enough so that it fits over the wheel. Once the tire is in place on the wheel, the heat is removed. The tire cools and shrinks, providing a tight joint between the two that is strong enough for regular service on the railroad.'"
The Ring of Fire demonstrations are scheduled for 11 am and 1:30 pm on Saturday, June 2 and Sunday, June 3 at the festival site. Visit the Arts on Fire website for directions and additional information.