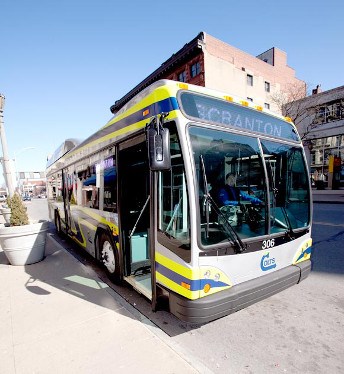 Bus
Both Greyhound Lines and Martz Trailways service Scranton from a central bus terminal in Central City. This terminal is located on Lackawanna Avenue across from the main vehicle entrance (Cliff Street) to the Park. The most convenient walking access, however, is via the Mall at Steamtown, also across the street from the bus terminal.
(Note: The pedestrian bridge connecting the Mall at Steamtown with Steamtown NHS is private (Mall) property, and is generally closed during winter months and during other periods of extreme weather conditions.)

COLTS (County of Lackawanna Transit System) provides local bus service to Scranton and all of Lackawanna County. (570) 346-2061 or 876-1256 for schedules and more information.

Plane
Wilkes-Barre/Scranton International Airport (AVP) at Avoca serves the greater Pocono Northeast. The airport is serviced by major auto rental agencies, and limo and taxi services. Check with your hotel directly to learn if they provide free ground transportation during your stay.

Please note that rail passenger service is not available in, to or from Northeastern Pennsylvania. The nearest Amtrak locations are New York City (98 mi), Harrisburg (100 mi), and Philadelphia (105 mi); connecting bus service to Scranton may be provided from those locations. Check with Amtrak or your travel agent.