Nickel Plate Road 514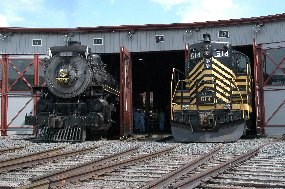 New York, Chicago & St. Louis Railroad (the Nickel Plate Road) #514
Owners: New York, Chicago & St. Louis Railroad #514; Norfolk & Western Railway #2514; Norfolk Southern #2514
Builder: Electro-Motive Division, General Motors Corporation, La Grange, IL, 1958
Locomotive #514 rolled out of the La Grange, IL locomotive works of the Electro-Motive Division of General Motors in 1958, putting it near the end of the production run of the famous GP-9 locomotives ("GP" designates a General Purpose locomotive, and "9" was the model number). The Nickel Plate Road (NYC&St.L) was one of the last major steam railroads to switch to the new diesel-electric locomotives. One reason for this was the famed "Berkshires" -- a 2-8-4 wheel arrangement steam locomotive capable of pulling heavy freight trains at high speed. In the early 1950s, the Nickel Plate took a look at the diesels and decided to stick with the Berkshires. Steamtown NHS has one Berkshire in its collection: the NYC&St.L #759. Though the 759 does not run, it allows the park to compare one of the last mainline locomotives in the US with the diesel-electric that replaced it.
The locomotive became part of the Norfolk & Western system in the 1960s after a merger with the Nickel Plate. On April 5, 1985, the locomotive was signed over to the Steamtown Foundation in Scranton, PA, as part of a trade which gave the Virginia Museum of Transportation in Roanoke, Virginia, clear title to the A-class steam locomotive N&W #1218.
Today, #514 appears in it's original Nickel Plate colors. While not part of the historic collection, it is used in the yards for switching and as a backup locomotive while our historic steam locomotives undergo maintenance and repair.

Last updated: December 6, 2016