Steamtown's Museums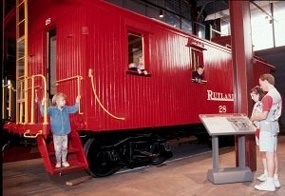 The History and Technology of Steam Railroading
Steamtown National Historic Site offers world-class museum facilities which tell the story of steam railroading. Both the nuts-and-bolts side and the personal side are shown at the park.
When the park was under development, the National Park Service decided to use the existing portions of the Roundhouse (dating from 1902, 1917 and 1937) as a part of the Museum Complex, while adding a Visitor Center, Theater, Technology Museum and History Museum.
The park theater shows an 18-minute film titled,
"Steel and Steam."
This short film follows one man's career on the railroad, and illustrates the massive changes railroads underwent in a fairly short time during the early 20th century.
Inside the History Museum, there is a timeline of railroading, from the earliest days of rails to the 1980s, including an exhibit room dedicated to DL&W President William Truesdale.
Another feature of the History Museum is the
Life on the Railroad
exhibit which focuses on the people who kept the railroad running, the railroad stations exhibit, and a Railway Post Office car and Business car.
The Roundhouse has been adaptively rehabilitated to allow Steamtown's mechanics to care for the locomotives with light-duty maintenance and repairs.
The Technology Museum includes a sectioned steam locomotive, a caboose and a boxcar, and exhibits covering technical aspects of railroading such as Making and Using Steam, Signals, Disasters, Railroad Jargon, Architecture, Maintenance of Way, and others.
The combination of a working railroad yard and a world-class railroad museum gives visitors a chance to do more than just step back in time. Visitors to Steamtown can step back in time with an understanding that is unique in America.
Last updated: October 3, 2017