Canadian National 3254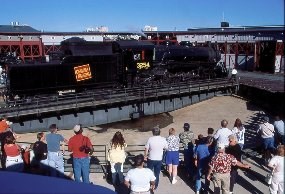 Canadian National Railways #3254
Owners: Canadian Government Railways, #2854; Canadian National Railways, #3254
Builder: Canadian Locomotive Company, Kingston Works Ontario, Canada, 1917
Locomotive #3254, a 2-8-2 Mikado, rolled out of the Canadian Locomotive Company's Kingston Works for use on the Canadian Government Railways. The CGR had a very brief existence. The Canadian Government, on April 1, 1916, consolidated five government owned railways -- the Intercolonial Railway (1,527 miles), the Transcontinental Railway, the Prince Edward Island Railway (276 miles of narrow gauge) and the National Transcontinental Railway (1,814 miles) -- to become the Canadian Government Railway. In 1918, the CGR was combined with the Canadian Northern Railway, which operated primarily in the Western Prairies. This new railway, the Canadian National, is still in operation today.
The 3254 is an S-1-b Mikado. (On Canadian National, the "S" meant a 2-8-2 wheel arrangement, the "1" meant it was the first design of this wheel arrangement and the "b" meant it was the second production run.) It was built to pull heavy freight trains and was retired in 1958. It was sold to a private owner in Pennsylvania in 1961, and in 1982 it was sold to the Gettysburg Railroad. In the summer of 1987, the Steamtown Foundation traded the CPR #1278 (a G-5 Pacific) plus cash to Gettysburg Railroad for the CN #3254.
Steamtown NHS is not currently operating mainline steam locomotives. We are in the process of a major maintenance and rebuild of our locomotive power fleet. We are currently focusing our attention on our 1929 Baldwin Locomotive Works #26, an 0-6-0 switcher. BLW #26 will be the motive power for our "Scranton Limited" short train rides. This locomotive may also see duty as motive power for an occasional special excursion on a portion of the former Delaware & Hudson Railroad mainline to Carbondale. The next steam locomotive to return to service is expected to be our Boston and Maine #3713, a Lima-built 4-6-2 Pacific-type Superpower locomotive with oversized firebox and superheaters that are able to pull and heat a 14-car passenger train at track speed! This 1937 American-built locomotive is in our collection and being restored in partnership with the Lackawanna and Wyoming Valley Railway Historical Society. When completed, the locomotive will replace our Canadian National #3254 2-8-2 Mikado-type locomotive for mainline excursion power. Following completion of these projects, we plan next to repair and restore 1923 Canadian Pacific #2317 to operating condition. CP #2317 will be used for motive power on our mainline excursions.
We continue to be diligent and proactive in our efforts to secure the resources necessary to restore these historic locomotives to operating condition, and to allow the Park to continue its unique mission of providing "live steam" interpretive programs well into the future. Follow the progress via our website or, better yet, plan a visit to our
Locomotive Shops
.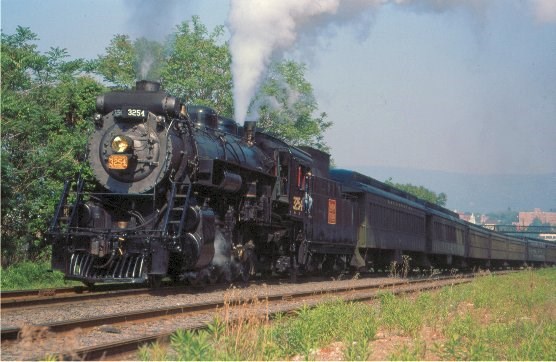 Last updated: December 6, 2016