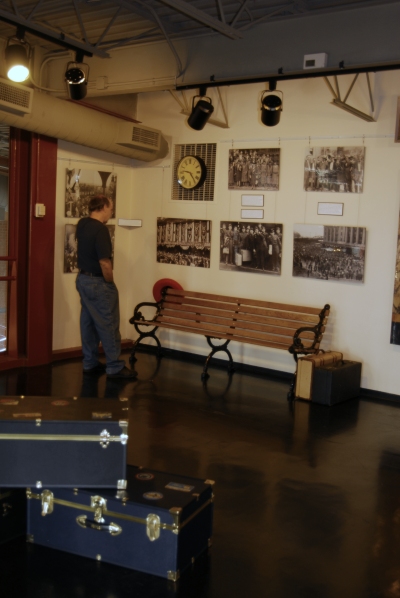 News Release Date:
August 18, 2008
Scranton, PA - Steamtown National Historic Site, downtown Scranton, welcomes a new exhibit, 100 Years: The Delaware, Lackawanna & Western Railroad's Scranton Passenger Station" on Monday, August 18.  The exhibit illustrates the key role that this prominent Scranton landmark played in the life of the everyday man, through archival photographs, news stories and advertisements.  The exhibit was conceived, designed and produced by Interpretation & Education Division personnel at Steamtown NHS, in partnership with the Lackawanna County Library System, the Lackawanna Heritage Valley Authority, Lackawanna Historical Society, the Radisson Lackawanna Station hotel, and the Scranton Times-Tribune.  It will be on display at the park's Changing Exhibits Gallery through December; an abridged exhibit is also on display along the first floor halls at the hotel.
Railroad stations in the nineteenth and early twentieth centuries were the hub of community life.  The Delaware, Lackawanna & Western Railroad, like other railroads in northeastern Pennsylvania, had expanded due to the nation's seemingly endless demand for the region's anthracite coal.  Productivity created opportunity.  Immigrants and native-born Americans sought jobs in the coal mines, silk mills, lace factories and on the railroads. The former DL&W completed a new passenger station, now the Radisson at Lackawanna Station Hotel, in 1908.  It was built to replace a much smaller Victorian station built in 1867 that was located along Lackawanna Avenue near Franklin Avenue, about 7 blocks west.  The "new" station's Beaux Arts design was created by renowned New York architect Kenneth Murchison in 1906, and took 14 months to complete.
The building fell into disrepair when it's last railroad owner, Consolidated Rail Corporation (Conrail) merged Scranton offices with its Philadelphia headquarters location and closed the building in 1977. Later that year, the facility was added to the National Register of Historic Places. In 1983, the grand structure was restored to serve as a full-featured luxury hotel at a cost of $13 million.  The historical significance of this majestic building is a reminder of Scranton's proud, colorful and extraordinary past as well as a symbol of the city's ongoing renaissance.
The exhibit is included in the Park's Entrance Fee and will be open during regular Park hours.  Located in Scranton, Pennsylvania, Steamtown NHS is open daily from 9:00 a.m. until 5:00 p.m.  The Park is closed on Thanksgiving Day, Christmas Day and New Year's Day.  From I-81, follow exit 185 (Central Scranton Expressway) to Lackawanna Avenue, and follow the signs to the park entrance at Lackawanna and Cliff Avenues.  Additional details regarding interpretive and educational programs and activities may be obtained by calling (570) 340-5200, toll free (888) 693-9391, during business hours, or by visiting the Steamtown web site at www.nps.gov/stea anytime! 
- NPS -  
Editor's Note: Digital images for media use are available upon request.