Date:
March 7, 2008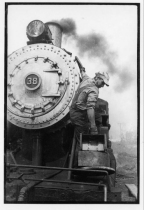 Scranton, PA – Steamtown National Historic Site, downtown Scranton, will present a photography exhibit by noted rail photographer John Fasulo titled, "My Passion for Trains: Railroad Images of John Fasulo," which will be on display in the Park's Changing Exhibits Gallery beginning Sunday, April 6.  The photographs span a 30-year period of Mr. Fasulo's love of trains, and are a concise but dramatic representation of the integral role people played in the railroad culture.  "I really identify with the railroad worker," says Fasulo. "Without them, all that machinery is only so much cold steel."
Mr. Fasulo, a member of the Center for Railroad Photography and Art, is a Beacon, NY resident and has had photographs published in National Geographic, U.S. Naval Institute and Railroads Illustrated magazine.  His exhibit will feature black-and-white and color photographs taken throughout the U.S., Canada and Europe. He credits his grandfather for his love of trains. "'Pop' was a machinist with the New York Central at the Harmon Shops, north of New York City. We would take the train from Beacon and, on our way into the city, we would often stop at Harmon where I'd get a tour of his domain.  He not only got me started in photography, but sparked my interest in trains and railroading."               
The exhibit will be on display during regular Park hours through May 7. Mr. Fasulo will also present a PowerPoint presentation in the Steamtown Theater on Sunday, April 27 at 12:00 p.m. followed by a "Meet the Artist" reception. The exhibit, presentation and reception are included in the Park's daily Entrance Fee.
Located in downtown Scranton, Pennsylvania, Steamtown National Historic Site is open 10:00 a.m. - 4:00 p.m. thru March 29, 2008; regular Park hours, 9:00 a.m. – 5:00 p.m., resume on March 30. From Interstate 81, follow exit 185 (Central Scranton Expressway); follow signs to the main entrance at Lackawanna Avenue and Cliff Street. Additional details regarding interpretive and educational programs and activities, and weather related cancellations, may be obtained by calling (570) 340-5200, toll free (888) 693-9391, or by visiting the Steamtown NHS website at www.nps.gov/stea.
Editor's Note: Digital images for media use are available upon request.
- NPS -