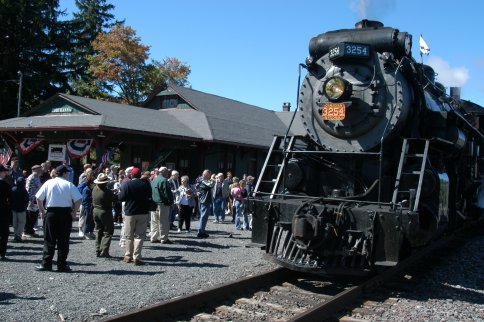 News Release Date:
June 1, 2009
SCRANTON, PA – Steamtown National Historic Site was created in 1986 "to further public understanding and appreciation of the role that steam railroading played in the development of the United States," and the Park's seasonal steam-powered passenger excursions help fulfill that mission!
The 2009 Excursion Schedule will offer steam-powered passenger trains that for some visitors will evoke recollections of the sights, sounds and smells of train travel circa 1920. For those too young to have had the experience first-hand, these excursions offer the opportunity to learn how most people traveled for work, business and pleasure in a time when minivans and SUVs hadn't yet been invented.
Reservations must be pre-paid, and tickets are non-refundable unless an excursion is cancelled by Park Management. We accept all major credit and debit cards. Phone (570) 340-5204 to purchase tickets, 9:30 a.m. – 4:00 p.m. daily. The Entrance Fee to the grounds at Steamtown is $6.00 per adult, daily, ages 17 and older. Those under 16, accompanied by an adult, are admitted to the Park at no cost. All walking tours offered by the Steamtown NHS staff, including museum access and the park movie, Steel and Steam, are included in the Entrance Fee. Excursion fares include the Park Entrance Fee. The full excursion schedule is also available to download and print at www.nps.gov/stea by clicking the "Train Rides" link.
Located in downtown Scranton, Steamtown National Historic Site is open 9:00 a.m. - 5:00 p.m. From I-81, follow exit 185 (Central Scranton Expressway); then follow the signs to the Park entrance at Lackawanna and Cliff Avenues. Additional details regarding interpretive and educational programs and activities may be obtained by calling (570) 340-5200 or toll free (888) 693-9391, or by visiting the Steamtown NHS web site at www.nps.gov/stea.


DelawareWater Gap**

June 27**
"Founders Day"

 

There will be displays, vendors and special presentations at Delaware Water Gap Township.

Departs 9 am, returns approx. 5:30 pm

Adults (ages 17 – 61): $51.00

Seniors (ages 62 and older): $46.00
Children (ages 6 – 16): $30.00
Children (to age 5): (Free! Ticket required, though!)

East Stroudsburg**

October 17**

Departs 9 am, returns approx. 5:30 pm

Adults (ages 17 – 61): $51.00

Seniors (ages 62 and older): $46.00
Children (ages 6 – 16): $30.00
Children (to age 5): (Free! Ticket required, though!)

Cresco to DWG

and

Cresco to
E Stroudsburg

**These trips will also board passengers
at Cresco Station, Cresco, PA
departing approx. 10:45 am.
Advance reservations must be made at Steamtown NHS – tickets will not be available at Cresco Station.

 

Adults (ages 17 – 61): $21.00

Seniors (ages 62 and older): $19.00
Children (ages 6 – 16): $15.00

Children (to age 5): (Free! Ticket required, though!)

Moscow

July 4, 5,18, 25

August 1, 8, 22, 29

September 5

October 3, 10*, 24



Departs 1 pm, returns approx. 3 pm

*"Pumpkin Express" – departs 11 am, returns 12:30 pm

"Fall Foliage" – departs 2 pm, returns 3:30 pm

Adults (ages 17 – 61): $21.00

Seniors (ages 62 and older): $19.00
Children (ages 6 – 16): $15.00

Children (to age 5): (Free! Ticket required, though!)

Tobyhanna

July 11

August 15*

October 4, 11*, 18, 25.

 

Departs 11 am, returns approx. 3 pm
*includes a stop at Gouldsboro

Adults (ages 17 – 61): $31.00

Seniors (ages 62 and older): $26.00
Children (ages 6 – 16): $20.00

Children (to age 5): (Free! Ticket required, though!)

Tunkhannock

Viaduct

September 12

(Reservations open July 20)

Departs 1 pm, returns approx. 4 pm

Adults (ages 17 – 61): $41.00

Seniors (ages 62 and older): $36.00
Children (ages 6 – 16): $30.00

Children (to age 5): (Free! Ticket required, though!)
- Digital images for media purposes are available upon request -

-NPS-