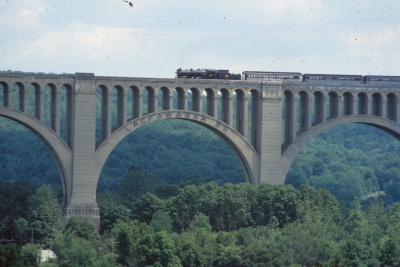 News Release Date:
July 7, 2008
As of the morning of August 7, 2008, this trip is sold out.  No First Class or Coach tickets are available;  there is no waiting list for cancellations.

SCRANTON, PA – Steamtown National Historic Site, downtown Scranton, Pennsylvania is pleased to announce that the Canadian Pacific Railroad will allow a special steam passenger train excursion from the Historic Site to the famed Tunkhannock Viaduct at Nicholson, Pennsylvania on Saturday, September 6, 2008! The excursion date coincides with Borough of Nicholson's "Bridge Day" celebration, which will run from 9:00 a.m. – 4:00 p.m. on Sunday, September 7, 2008 commemorating the 93rd anniversary of the viaduct.
The famed railway bridge was built by the former Delaware, Lackawanna and Western Railroad during the golden age of railroading. Completed in 1915, it was billed as the largest steel-reinforced concrete bridge in the world. The bridge is located in Nicholson, Pennsylvania, about 20 miles northwest of Scranton. It is 2,375 feet in length and 240 feet high and is named for the river it crosses – Tunkhannock Creek. The viaduct was double-tracked and built during a massive reconstruction of the railroad right-of-way to help speed Lackawanna passenger and freight traffic between Buffalo and New York City (via Hoboken, New Jersey). The viaduct has been in continual use by railroads including the original Lackawanna, Erie-Lackawanna, the Delaware & Hudson Railroad and current owner, Canadian Pacific Railway. 
The trip will depart the Steamtown NHS Boarding Platform at 1:00 p.m. for a planned arrival and stop on the famed bridge from 2:00 – 2:15 p.m. While riders will not be allowed to detrain at the destination, passengers will be able to enjoy fantastic views of the Endless Mountains in Wyoming County. Prior to departing the bridge, the engine will be moved to the south end of the train for the trip back to Scranton. The train will stop again briefly on the viaduct at 3:00 p.m. for a scheduled Scranton arrival at 4:00 p.m. 
Ticket prices for the Tunkhannock Viaduct excursion are $41.00 for adults 17 to 61, $36.00 for seniors 62 and older, and $30.00 for children aged 6-16. Children 5 and younger require a "no-charge" ticket; all children must be accompanied by a parent or guardian.
A limited number of premium fare tickets are available for passengers to ride in the luxurious Lehigh Valley #353 business car for $200.00 per person for all ages. Light snacks will be served.
Excursion reservations may be made by phoning (570) 340-5204 daily, 9:30 a.m. – 4:30 p.m. For information on the Nicholson "Bridge Day" celebration, phone (570) 942-4410 or (570) 942-4443.
Located in Scranton, Pennsylvania, Steamtown is open daily from 9:00 a.m. until 5:00 p.m. From I-81 follow exit 185 (Central Scranton Expressway); then, follow the signs to the main entrance at Lackawanna and Cliff Avenues. Additional details regarding interpretive and educational programs and activities may be obtained by phoning (570) 340-5200 during business hours, or by visiting the Park website at www.nps.gov/stea anytime!
-NPS-