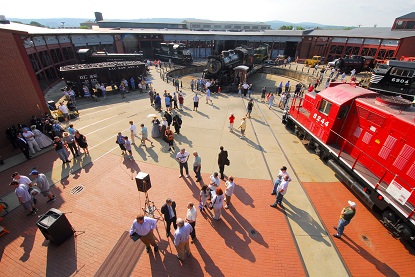 News Release Date:
August 14, 2013
Contact: Kip Hagen, 570-340-5182
SCRANTON, Pa. – Steamtown National Historic Site, downtown Scranton, is the place to be this Labor Day weekend, August 31 and September 1, as the National Park Service joins with several railroads and partners to host "Railfest 2013." Railfest is a celebration of railroading, contrasting yesterday with today!
The fun begins on Saturday, August 314 at 10:00 a.m. with an Opening Ceremony with special event Grand Marshal Ed Rogers, Editor of "Good Times for Seniors" and retired Managing Editor for the Scranton Times-Tribune.
Norfolk Southern Railway, North Shore Railroad, the Delaware-Lackawanna Railroad, the Reading Company Technical Historical Society historic FP-7 locomotives and the Anthracite Railroads Historical Society's F3A locomotives, painted into the former Delaware, Lackawanna & Western Railroad's paint scheme, are planning to provide equipment displays.
Planned programs include:
Union Pacific #4012 "Big Boy" locomotive cab tours

Norfolk Southern's Exhibit Car and display locomotives

"Confederation of Union Generals, Delaney-Delacy Guard" theater presentations

and "Meet-and-Greet"

"Big Band" performances by Ron Leas' Band (Saturday only)

"Scranton Limited" short train rides

Caboose Rides

Lehigh Valley #353 Business Car tours

Locomotive Shops will be open for self-guided tours

Turntable Demonstrations

Railroad and Civil War Songs by Ray Owens

Free Trolley Bus rides to the Scranton Iron Furnaces and La Festa Italiana
Planned exhibitors include:
Anthracite Hi-Railers "O"-gauge model train layout

Mid Atlantic Motorcars Association

Norfolk Southern

North Shore Railroad

Operation Lifesaver information table (Saturday only)
Excursions are planned to Moscow, Pennsylvania on each event day, with historic DL&W-painted F3A diesel locomotives. At Moscow Station, ''photo run-bys" are also scheduled. The excursions will depart the Boarding Platform at 12:30 p.m. each day with a planned return to Scranton at approximately 3:30 p.m.Excursion fares are $21 for adults 17 to 61, $19 for seniors 62 and older, and $15 for children ages 6-16. Children 5 and younger require a "no-charge" ticket. For reservations, phone (570) 340-5204, 9:00 a.m.– 4:00 p.m. daily.

Other event partners include the Lackawanna County Trolley Museum, which will offer an expanded schedule for trolley rides along a portion of the former Laurel Line. A Civil War encampment is planned, along with site tours, at the Scranton Iron Furnaces. Period-costumed reenactors will interact with visitors at both sites. While two popular local food vendors will be on-site at Steamtown NHS each day, remember to bring along your hunger for the great Italian food and treats available at La Festa Italiana at Courthouse Square. COLTS trolley buses will provide free shuttles on a loop to the Scranton Iron Furnaces and La Festa Italiana.

Located in downtown Scranton, Pa., Steamtown NHS is open daily from 9:00 a.m. – 5:00 p.m. From I-81 follow exit 185 (Central Scranton Expressway); then, follow the brown and white signs to the main entrance at Lackawanna and Cliff Avenues (GPS: N 41.41, W 75.67).Train information and reservations, (570) 340-5204, 9:00 a.m. – 4:00 p.m. daily. Additional general park information is available by phoning (570) 340-5200 during regular business hours, or by visiting the Park website at www.nps.gov/stea anytime!
- NPS -