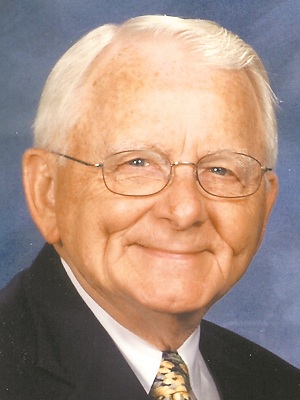 News Release Date:
July 29, 2013
Contact: Kip Hagen, 570-340-5182
SCRANTON, Pa. – Railfest 2013, an annual celebration of railroading past, present and future that is held on the Saturday and Sunday of Labor Day weekend at Steamtown National Historic Site, will take place on August 31 and September 1, with an opening ceremony on Saturday morning at 10:00 a.m. The park announced today that former Scranton Times-Tribune Managing Editor and current editor of Good Times for Seniors, Mr. Ed E. Rogers, has been named Grand Marshal for this year's event!
Mr. Rogers' career with Times-Shamrock Communications, parent firm of The Scranton Times-Tribune and Wilkes-Barre's Citizens' Voice newspapers, spans 60 years. Mr. Rogers was a reporter, city editor and managing editor for The Scranton Times and has been editor for Good Times for Seniors since 1994.Good Times is a national award winning publication for upscale mature readers in Northeastern Pennsylvania, included as an insert to The Times-Tribune in Scranton and the Citizens' Voice in Wilkes-Barre. Mr. Rogers is a Carbondale, Pennsylvania native who has been writing about regional events for most of his career. The paper is distributed six times a year to over 75,000 subscribers of The Times-Tribune and the Citizens Voice publications.
Specializing in locally written stories, Good Times for Seniors both entertains and enlightens readers in seven counties. The table of contents in a typical issue is likely to include profiles of interesting people and things they are doing, a seniors-oriented health story quoting local physicians, news about Social Security and financial matters, and a calendar of events geared specifically to the Good Times readership.
Mr. Rogers and his wife, Eleanor, greatly enjoy rail travel, and have shared trips and memories from many destination excursions in the United States. He and Mrs. Rogers have ardently supported the rail museum and National Park Service (NPS) involvement in downtown Scranton since "Day One," as Mr. Rogers noted, in 1982. He served as secretary of the former Steamtown Foundation Board of Trustees, as a member of the Steamtown NHS Advisory and the NPS Mid-Atlantic Councils, and was railroad chairman for the 1992 Grand Opening event at Steamtown NHS. The Chicago Tribune quoted Mr. Rogers in a 1992 article during the site's construction as saying, "I see it as the creation of a living museum for the youngsters of future generations .It is living history in a city that was an important center in the railroad age."Steamtown NHS is the only place in the National Park System where the story of steam railroading, and the people who made it possible, is told. The historic industrial railroad yard site features a visitor center with exhibits showing how the former Delaware, Lackawanna & Western Railroad's Scranton Yards evolved from 1850 to present, a 250-seat digital surround-sound theater showing the park movie, "Steel and Steam," an active roundhouse, and features self-guided tours of the history and technology museums that tell a multimedia-rich story of the significance of railroad transportation in the United States. The site also offers ranger-guided Locomotive Shop tours, where visitors have the opportunity to observe locomotive and rolling stock maintenance and repairs taking place, as well as to learn about the people and the machines that were required to keep the railroads – and the country – moving.
Mr. Rogers and his wife, Eleanor, reside in the Cortez area of Jefferson Twp., Pa. They are the proud parents of two sons and two daughters, and are the grandparents of eight grandchildren. As Railfest 2013 Grand Marshal, Mr. Rogers will join with Steamtown NHS Superintendent Kip Hagen in welcoming visitors to this year's celebration of railroading at the event's 10:00 a.m. opening ceremony.

Located in downtown Scranton, Pa., Steamtown NHS is open daily from 9:00 a.m. – 5:00 p.m. From I-81 follow exit 185 (Central Scranton Expressway); then, follow the brown and white signs to the main entrance at Lackawanna and Cliff Avenues (GPS: N 41.41, W 75.67). Additional general park information is available by phoning (570) 340-5200 during regular business hours, or by visiting the Park website at www.nps.gov/stea anytime!
-NPS-