Date:
August 2, 2011
Contact:
Mark Brennan, 570-340-5244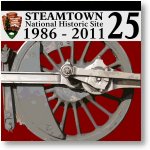 Scranton, Pa. - Steamtown National Historic Site, downtown Scranton, is the place to create family memories on Saturday and Sunday, September 3 and 4 of Labor Day weekend, as the National Park Service joins with several partners to host "Railfest 2011." This year's event theme is "A Celebration of Railroading. "Railfest 2011 will help commemorate four milestone anniversaries:

-25 Years - Steamtown National Historic Site (October 30, 1986)
-40 Years - Amtrak (May 1, 1971) and,
-125 Years - Scranton's Electric Trolley System (November 30, 1886)
-20 Years - Lackawanna Heritage Valley Authority (1991)

with visiting equipment displays, special shop demonstrations and, of course, train rides on both days of the event.

The fun begins on Saturday, September 3 at 10:00 a.m. when Park Superintendent Harold ("Kip") Hagen will host an Opening Ceremony, welcoming Joseph Boardman, President and Chief Executive Officer, Amtrak, Thomas Carper, Chairman, Amtrak Board of Directors and special event Grand Marshal Joseph McHugh, Amtrak Vice President of Government Affairs and Corporate Communications.

Amtrak, America's Railroad, will present its 40th Anniversary Train to the public on both days. This special exhibit train features displays of photos, uniforms, china, and memorabilia from Amtrak while also offering a glimpse into the future. Delaware-Lackawanna Railroad, Norfolk Southern Railway, the Reading Company Technical Historical Society's historic FP-7 locomotives and the Anthracite Railroads Historical Society's DL&W F3A locomotives are also planning to provide equipment displays.

Planned special programs include:
-Behind-the-scenes tours of the restored Mattes Street Tower and the cavernous Office Storage Complex
-"Big Band" railroad music
-Caboose Rides
-Special Shop machinery demonstrations
-Turntable Demonstrations
-Historic iron pour
-Special theater presentation "Amtrak: The First 40 Years - 1971-2011"
-"Scranton Limited" short train rides
-Union Pacific #4012 "Big Boy" locomotive cab tours
Planned exhibitors include:
-The Lackawanna Heritage Valley Authority
-Lackawanna County Historical Society
-Amtrak Trails to Rails
-Carbondale Historical Society
-Anthracite Heritage Museum and Iron Furnace Associates-The -Everhart Museum
-"First Aid and the Railroads" special exhibit
-Model LEGO train displays
-The evolution of Track Maintenance equipment
-The Railway & Locomotive Historical Society
The American Red Cross will also take part in the celebration with a special blood drive. According to Red Cross representative Shannon Ludwig, "Summer has always been one of the most difficult times for blood donations, and this season has been no different. In fact it has worsened since our region has experienced some of the most extreme weather conditions since January 1st. Cold, snow, ice, rain, floods, tornadoes, humidity and heat waves have slowed donor turn out at blood drives. Even with the national appeal for blood which began in July, donations have not increased to a point in which we are comfortable with. Blood levels still remain at critically low conditions. The need for blood is constant. The need for blood is now." The Red Cross Blood Drive will be held on Saturday, September 3 from 10:00 a.m. to 4:00 p.m. The actual blood donation takes about 15 minutes. Individuals interested in donating blood can make advance reservations by calling 1-800-RED-CROSS. Walk ups are also welcome. As a special incentive to increase the areas blood supplies, the park will waive the Entrance Fee for all donors.
There will be an excursion to Moscow, Pennsylvania on each day, with ''photo run-bys" during each trip. Saturday's excursion will be powered by historic diesel-powered passenger locomotives; Sunday's train ride will feature our Canadian National #3254 steam locomotive. The trips will depart the Steamtown Boarding Platform at 1:00 p.m. each day with a planned return to Scranton at approximately 3:30 p.m. Excursion fares are $24 for adults 16 to 61, $22 for seniors 62 and older, and $17 for children ages 6-15. Children 5 and younger require a "no-charge" ticket.

Other event partners include the Lackawanna County Trolley Museum, which will offer an expanded schedule of trolley rides along a portion of the former Laurel Line. Also, remember to bring along your appetite for great Italian food and treats as La Festa Italiana takes place at Courthouse Square in downtown Scranton. The County of Lackawanna Transit System (COLTS) will provide free trolley bus service between Steamtown NHS and La Festa during the park's operating hours on both days. For more information on the Lackawanna County Trolley Museum, phone direct (570) 963-6590; information on La Festa Italiana is available at www.lafestaitaliana.org.

Located in Scranton, Pennsylvania, Steamtown NHS is open daily from 9:00 a.m. until 5:00 p.m.From I-81, follow exit 185 (Central Scranton Expressway); then, follow the signs to the main entrance at Lackawanna and Cliff Avenues.Train excursion information and reservations may be made by phoning (570) 340-5204 daily, 9:30 a.m. - 4:00 p.m. General Park information is available at the Park website, www.nps.gov/stea anytime!
- NPS -