Date:
April 29, 2013
Contact:
Harold Hagen
, 570-340-5182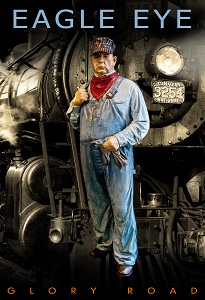 American railroads and photography share a common bond: The histories of both can be traced to the 1830s.The expression "glory road," a sentimental term for a railroad, is said to date back nearly as far, and is reported to have been used often by both railroad workers and passengers."Glory Road: An Exhibit of Railroad-Themed Posters and Photo Illustrations" explores this historic bond with original poster designs and photo illustrations by graphic artist Al Pierce. The exhibit, supported by a Lackawanna County Arts and Culture grant, will be featured at the park's Changing Exhibits Gallery from June 3 through July 6, and is included in the park's daily Entrance Fee.Visitors will also have an opportunity to "meet and greet" the artist at the exhibit on Sunday, June 9 from 2:00 p.m. - 4:00 p.m.
The exhibit highlights the remains of the steam railroading industry with graphic designs and photo illustrations of the railroad companies, their employees, and the passengers who rode with them.The exhibit captures the imagery and terminology that was used in the early days of American railroading with poster designs of steam engines, passenger cars and railroad memorabilia that has long been associated with the industry.
Mr. Pierce, a Waverly, Pennsylvania resident, is a freelance graphic designer and photographer.He developed this exhibit from his fondness of images and visual observations of America's railroads of the past and as they appear today."What really excited me about this theme was its tarnished industrial appearance, and how its effect on American history is remembered from the remaining artifacts in rail yards and terminals, and at railroad parks and museums." More information about the artist is available at http://alpiercedesign.com/.
Located in downtown Scranton, Pa., Steamtown NHS is open daily from 9:00 a.m. - 5:00 p.m.From I-81 follow exit 185 (Central Scranton Expressway); then, follow the brown and white signs to the main entrance at Lackawanna and Cliff Avenues (GPS: N 41.41, W 75.67).Additional general park information is available by phoning (570) 340-5200 during regular business hours, or by visiting the Park website at www.nps.gov/stea anytime!
- Digital images for media purposes are available upon request
- NPS -