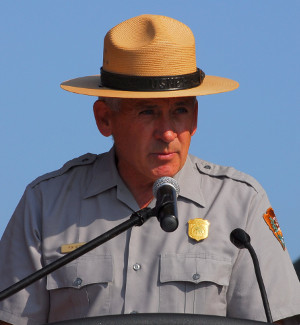 News Release Date:
December 16, 2013
It is with great sadness that we report the passing of our friend and colleague, Harold H. "Kip" Hagen Jr., 62, superintendent of Steamtown National Historic Site. Kip passed away suddenly from a heart attack this past Saturday, December 14th, at his home in Tafton, Pennsylvania, where he lived with his wife Donna, who works for the National Park Service with the Washington Area Servicing Office's (WASO) Park Facility Management Division.
Over his 37-year career in the National Park Service, Kip served with distinction in numerous roles. A native of Scranton and superintendent at Steamtown since 2002, Kip made an indelible mark on the park, initiating new programs and forging strong partnerships in the surrounding communities.In 2006, he received the Department of the Interior's Take Pride in America Federal Land Manager Award for his support of the park's Volunteers-in-Park program.
Prior to joining Steamtown in 1998 as assistant superintendent, Kip spent eight years at WASO's Park Facility Management Division.
Our deepest sympathies go to Kip's wife, Donna; their son, Jim; daughters, Sarah and Ashley; and three grandchildren.
Additional information about funeral services will be shared when they made are available.
UPDATE:


A Mass of Christian Burial will be held on Wednesday, December 18 at 10:00 a.m. at St. Paul's Church, 1510 Penn Ave., Scranton, PA.  http://www.stpaulscranton.org

In lieu of flowers, donations may be directed to:
Lackawanna and Wyoming Valley RHS
Payable to "Locomotive Restoration Fund"
PO Box 3452
Scranton PA 18505-0452
Condolences to the family may be sent to 165 Shore Road, Tafton, PA 18464.