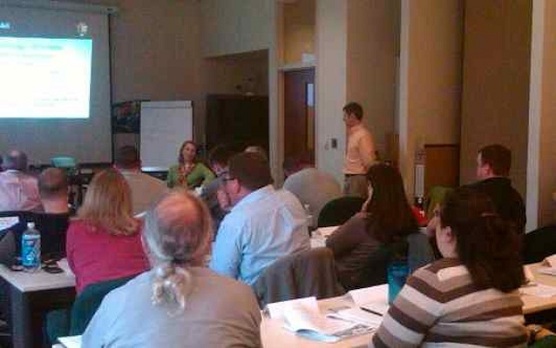 News Release Date:
July 23, 2013
Contact: Kip Hagen, 570-340-5182
SCRANTON, Pa. – Steamtown NHS hosted two Operational Leadership courses in June for nearly forty park staff.Steamtown staff work in a highly complex environment preserving, maintaining and operating locomotives and providing highly interactive visitor services. Employees from the Northeast Regional Office Rivers, Trails and Conservation Assistance Program and The Home of Franklin Roosevelt and Vanderbilt Mansion joined the classes. Class participants were highly engaged and possess a keen awareness of the importance of safety in park operations. The second class had the opportunity to examine the "Scranton Limited" Short Train Excursion by applying Operational Risk Management principles, including a risk assessment model.Facilitators for the course came from Shenandoah National Park, Fort McHenry National Monument and Historic Shrine, and Weir Farm National Historic Site.
Operational Leadership was developed and tailored for the National Park Service by the California Training Institute.The National Park Service is striving to deliver and maintain excellent leadership while maximizing safe mission success and this course was developed and tailored for all NPS field work units. The concepts apply to a broad spectrum of maintenance, resource management, and ranger operations within the NPS. It will improve operational safety and efficiency. The parks recognize that employees constantly face challenges in the performance of their duties, and to meet these challenges, leaders must exercise competent leadership in their daily activities. Operational Leadership is a "special human factors tool" that is a part of the National Park Service Safety Management System.
Steamtown National Historic Site is the only place in the National Park System where the story of steam railroading, and the people who made it possible, is told.The historic industrial railroad yard site features a visitor orientation center with exhibits showing how the former Delaware, Lackawanna & Western Railroad's Scranton Yards evolved from 1850 to present, a 250-seat digital surround-sound theater showing the park movie, "Steel and Steam," an active roundhouse, and history and technology museums that tell a multimedia-rich story of the significance of railroad transportation in the United States.
Located in downtown Scranton, Pennsylvania, Steamtown NHS is open daily from 9:00 a.m. – 5:00 p.m.From I-81 follow exit 185 (Central Scranton Expressway); then, follow the brown and white signs to the main entrance at Lackawanna and Cliff Avenues (GPS: N 41.41, W 75.67).General park information is available by phoning (570) 340-5200 during regular business hours, or by visiting the Park website anytime at www.nps.gov/stea.
- NPS -