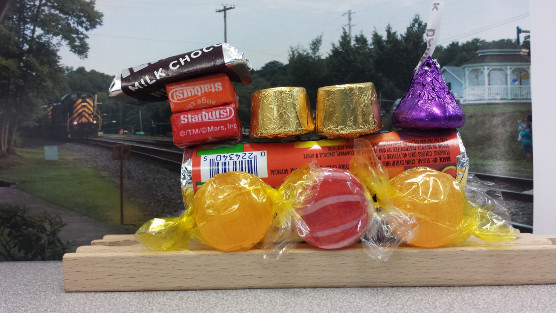 News Release Date:
April 8, 2014
Contact: Bill Nalevanko, 570-241-8258
SCRANTON, Pa. – Acting Superintendent Bill Leonard announced today that Steamtown National Historic Site will launch National Park Week with an Entrance Fee-Free Weekend. On Saturday, April 19 and Sunday, April 20, all indoor and outdoor exhibit areas and park museum facilities, including guided tours and the park movie, "Steel and Steam," are free.

Additionally, the "Scranton Limited" short train rides will begin operating on April 19 and continue daily, except April 26, during National Park Week. This 3-mile, 30-minute round-trip travels through the rail yards, crosses the Lackawanna River, passes the historic Radisson at Lackawanna Station hotel and stops at the University of Scranton before returning to the Steamtown boarding area. Following National Park Week, the "Scranton Limited" will operate on Wednesdays through Saturdays, with departure times at 10:30 and 11:30 a.m., and 1:30 and 2:30 p.m.

New this year, we are launching an extended ride traveling a bit further east along the former Pocono Mainline to the 755-foot Nay Aug Tunnel. The "Nay Aug Limited" will feature an interpretive program by a park ranger or volunteer, and a brief stop above Nay Aug Gorge. Nay Aug Park Gorge and Waterfall features rock cliffs and waterfalls gently cascading into Roaring Brook below. The "Nay Aug Limited" train rides will operate on Sundays only beginning April 27, and will depart at 11:30 a.m., 1:30 p.m. and 2:30 p.m. on this 45-minute round-trip journey. "We are excited to offer visitors an extended train ride that will give them the opportunity to enjoy a view of this National Natural Landmark from a unique perspective," said Mr. Leonard. "Connecting visitors to history and natural resources is what the National Park Service is all about."

The cost for both the "Scranton Limited" and "Nay Aug Limited" short train rides is $5.00 per person, all ages 6 and older, in addition to the park's daily Entrance Fee. The trains will be powered by a historic diesel locomotive and operate with vintage passenger cars. "We hope to be using our 1929 Baldwin #26 steam locomotive for these short train rides later in the season," noted Mr. Leonard. Details on longer excursions, along both the former Lackawanna Railroad and Delaware and Hudson mainlines, are available on the park website.

National Park Week is celebrated Saturday, April 19 to Sunday, April 27. The park will feature a unique Education Center program for children, "Candy Train." Children will learn about a steam locomotive by "building" their own – with candy! Both programs are scheduled to begin at 1 pm on each Saturday of the event, April 19 and 26. Additionally, the park will celebrate National Junior Ranger Day on Saturday, April 26. On National Junior Ranger Day, children ages 6-12 can work to become Junior Rangers and earn a special patch, in addition to a Steamtown NHS Junior Ranger badge and certificate, during their visit.

Located in downtown Scranton, Pa., Steamtown NHS is open daily from 9 a.m. – 5 p.m. From I-81 follow exit 185 (Central Scranton Expressway); then, follow the brown and white signs to the main entrance at Lackawanna and Cliff Avenues (GPS: N 41.41, W 75.67). General park information is available by phoning (570) 340-5200 during regular business hours, or by visiting the Park website anytime at www.nps.gov/stea.
-NPS-
2014 National Park Week on YouTube!