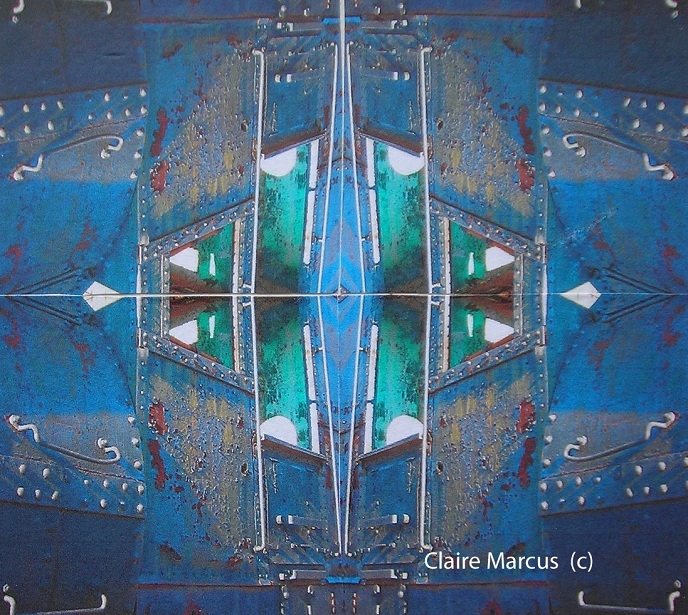 News Release Date:
March 11, 2013
Contact: Harold Hagen, 570-340-5182
"Perspective" can be defined as "the art of drawing solid objects on a two-dimensional surface so as to give the right impression of their height, width, depth; a picture drawn appearing to enlarge or extend the actual space, or to give the effect of distance." Mixed-media artist, Claire Marcus, will present her "Railroad Perspectives" at Steamtown NHS from April 7 through May 28. Ms. Marcus uses photographs taken at Steamtown, and various maps in the collection at the Lackawanna Historical Society, combining digital photography on paper and silk to create her stitched, mixed media works.The exhibit, supported by a Lackawanna County Arts and Culture grant, will be featured at the park's Changing Exhibits Gallery, and is included in the Park's daily Entrance Fee.Visitors will also have artist "meet and greet" opportunities at the exhibit on Sunday, April 21, and Sunday, May 26, from 12:00 p.m. - 2:00 p.m. on each day.
Ms. Marcus' work is created with printmaking, drawing, and photography printed on silk, stitched with found objects. It reflects her background as a fifth generation fiber artist, combining family heritage with training in painting, architecture, and design. She has special interests in land- and cityscapes, and their power to evoke memory and narrative. Ms. Marcus has exhibited her work in national and international venues including three Northeast Pennsylvania Biennial exhibitions, the London 2012 Cultural Olympiad and Philadelphia's Art in City Hall, and numerous commercial galleries.With degrees in painting and architecture from the University of Pennsylvania, Ms. Marcus has also conducted preschool-12 residencies and community arts projects for the Pennsylvania Council on the Arts since 1998.More information regarding Ms. Marcus is available at www.ClaireMarcusFineArts.com.
Located in downtown Scranton, Pa., Steamtown NHS is open daily from 10:00 a.m. - 4:00 p.m. through April 6; beginning April 7, park hours will return to 9:00 a.m. - 5:00 p.m.From I-81 follow exit 185 (Central Scranton Expressway); then, follow the brown and white signs to the main entrance at Lackawanna and Cliff Avenues (GPS: N 41.41, W 75.67). Additional general park information is available by phoning (570) 340-5200 during regular business hours, or by visiting the Park website at www.nps.gov/stea anytime!
- Digital images for media purposes are available upon request -
- NPS -