History of the Big Boy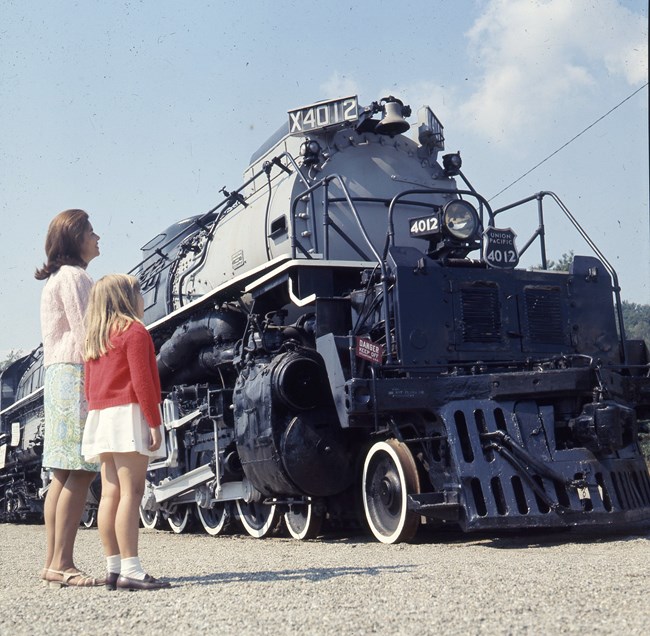 The story of the "Big Boy" is tied closely to the creation of Steamtown. Blount had discovered that in order to acquire the locomotive it had to be in the name of a not-for-profit organization. Originally he had worked out a deal with the State of New Hampshire to take it as part of a deal to create a state railroad museum. This deal fell through and Blount moved his hodge podge of railroad rolling stock to Bellows Falls. He then created Steamtown USA as a not-for-profit museum so the Union Pacific could donate it. Had Blount not been forced to create Steamtown USA to acquire the "Big Boy", who knows what would have happened to his equipment when he died in a plane crash in 1967. It might have been broken up with the rest of his estate rather than being run for 20 years in Vermont before moving to Scranton and becoming the seed for Steamtown National Historic Site.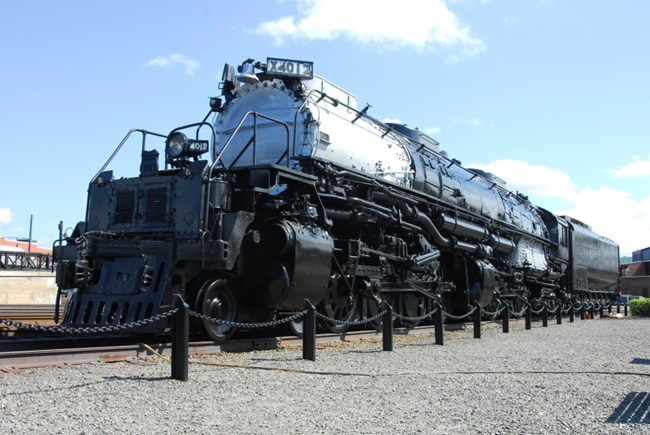 Eventually, every railroad faces the same problem: how to move trains over mountains? Small logging and mining railroads purchased geared locomotives - Heislers, Climaxes and Shays - which could pull trains at low speed up steep hills. Medium railroads, like the Delaware, Lackawanna & Western, bought many medium-sized engines - 4-6-2s, 4-8-2s and 4-8-4s - and put as many as ten engines on one train. Large railroads like the Union Pacific Railroad, stretching from Kansas City, Missouri and Omaha, Nebraska to Seattle, Washington and Los Angeles, California, preferred a different solution. The Union Pacific ordered larger, more powerful engines such as the 4-12-2 Union Pacific-type and 4-6-6-4 Challengers. The trend toward size and power culminated in the 1.2 million pound, 6,200 horsepower 4-8-8-4 "Big Boy."

The "Big Boys" were built for power. They did the work of three smaller engines, pulling 120-car, 3800 ton freight trains at forty miles per hour in the mountains of Utah and Wyoming.

With power, though, comes weight - larger cylinders, pistons, drive rods, boiler and firebox. Steam locomotive manufacturers added more wheels with idlers and powered drive wheels.

The extra wheels added length. Long engines had difficulty squeezing through the sharp track curves, especially in the mountains. A Swiss designer, Anatole Mallet (1837-1919) added a "hinge" to the middle of a locomotive to allow it to "flex" slightly. Two pairs of cylinders supplied power to the two sets of drive wheels.

Though the "Big Boys" were built in Schenectady, New York by the American Locomotive Company (ALCO) to the Union Pacific's design, none ever operated outside of the Union Pacific property. ALCO delivered the first batch of 20 (from an order for 25) to the Union Pacific - including #4012 now in the Steamtown NHS collection - in 1941, and the remaining 5 locomotives in 1944.

"Big Boys" had more than one mile of tubes and flues installed inside the boiler. Their firebox grate measured 150 square feet. The "Big Boys" had sixteen drive wheels, each measuring 68 inches. From coupler to coupler they measured 132 feet 9 inches. The tender held 24,000 gallons of water and 28 tons of coal and the engine and tender weighed 1,189,500 pounds in working order. The engines well deserved the name "Big Boy" which was written on one of the drive rods by an unknown worker at ALCO.

The 25 "Big Boys" were built to pull long, fast freight trains over the Wasatch Mountains of Utah and Sherman Hill in Wyoming. They served there until 1959 when the new diesel-electric locomotives took over. "Big Boy" #4012 was retired by the Union Pacific in 1962, when F. Nelson Blount obtained it for display at his former Bellows Falls, Vermont, museum. It was displayed, non-operative, there until 1984 when it was moved to Scranton, Pennsylvania. The "Big Boys" were not the most powerful engines, though they were the heaviest. But no engine ever came close to matching "Big Boy's" combination of speed, power and agility.

Today, the Union Pacific "Big Boy" #4012 is under restoration and unavailable to the public. You may follow it's progress by watching our Big Boy Restoration Page for updates.
Last updated: December 27, 2019