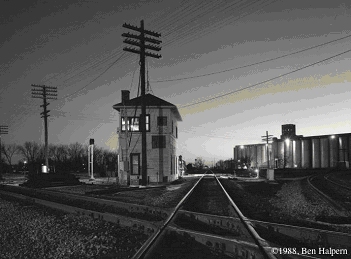 News Release Date:
October 9, 2007
Scranton, PA - Steamtown National Historic Site, downtown Scranton, welcomes a new exhibit "Twilight at the Tower" by railroad photographer Benjamin Halpern.  This exhibit documents the fascinating aspect of railroad labor and architecture.  The exhibit is currently at our site on display and can be viewed during normal Park hours daily or during "Lackawanna Railfest 2007, November 1 -3.  The exhibit will remain on site through November 17th 2007.

Mr. Halpern, Champaign, IL, is a photographer and life-long railroad enthusiast.  He began documenting the former Illinois Central yard and offices in and around Champaign in 1986.  It immediately became apparent to Mr. Halpern that rapidly advancing technology and the push toward railroad deregulation would soon change or eliminate many jobs, dramatically altering the appearance of the railroad landscape forever.

Nowhere were these changes more obvious than at the interlocking towers, once considered an iconic symbol at the entrance to a railroad yard or junction.  The tower was quickly becoming a relic whose purpose was nearing obsolescence, and its demise was clearly in sight.  Mr. Halpern set out to photo-document railroad towers that were still in operation near his home.  Along the way he became intrigued by the railroad landscape and fascinated by the personal attributes of the tower operators.   The photographs shown in the exhibit are a concise but dramatic representation of the towers as an integral part of the railroad culture.  The tower is also portrayed as home to a brotherhood of men and women, at one with their surroundings and ultimately devoted to the safety of their fellow roadmen.

The exhibit is included in the Park's Entrance Fee, and will be open during regular Park hours.  Located in Scranton, Pennsylvania, Steamtown is open daily from 9:00 a.m. until 5:00 p.m.  From I-81, follow exit 185 (Central Scranton Expressway); then, follow the signs to the main entrance at Lackawanna and Cliff Avenues.  Additional details regarding "Lackawanna Railfest 2007", as well as information regarding interpretive and educational programs and activities may be obtained by calling (570) 340-5200 or toll free (888) 693-9391 during business hours, or by visiting the Steamtown web site at www.nps.gov/stea anytime!
 
Editor's Note: Digital images for media use are available upon request.

- NPS -