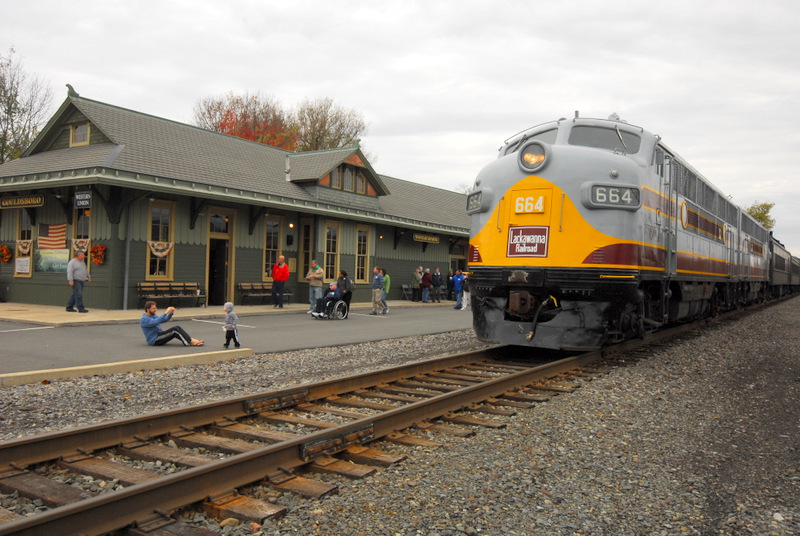 News Release Date:
September 18, 2013
Contact: Reservations, 570-340-5204
SCRANTON, Pa. – It's that time of year again!Time to clean and store the grills and search recipes for comfort-food making-and-baking; time to put away the shorts and flip-flops and bring out the jackets, sweaters and hoodies; and time again for Mother Nature to don her most colorful dress for Northeastern Pennsylvania. It's also time for Steamtown National Historic Site to transport visitors through some of the most beautiful fall scenery that the nearby Pocono Mountains have to offer! A total of eight fall foliage excursions, all diesel-powered, are planned for this season. Reservations for all fall foliage excursions open on Tuesday, October 1.

Trips to Moscow will depart the Steamtown NHS boarding platform at 12:30 p.m. on October 5, 13, 19, 26 and 27, and are expected to return at 3:00 p.m. The Lackawanna & Wyoming Valley Chapter, NRHS, which leases the former Moscow passenger station and freight house, will offer light refreshments for sale during the train's layover.Moscow excursion tickets are priced at $24.00 for adults 16-61, $22.00 for seniors 62 and older, and $17.00 for children ages 6-15. A limited number of seats are available aboard Pullman-built Business Car, Lehigh Valley #353, at $50, all ages. Children to age 5 require a "no-charge" ticket.
An excursion to Gouldsboro will depart at 11:00 a.m., with a brief stop at Tobyhanna Station on the return trip, on Sunday, October 6, and a trip to Tobyhanna is scheduled for an 11:00 a.m. departure on Sunday, October 20, returning to Scranton at 3:00 p.m. The Gouldsboro Historical Society will dress in "Colonial Times" dress, and will offer station tours and refreshments for sale at Gouldsboro Station, while the Coolbaugh Township Historical Association will have light refreshments for sale at the Tobyhanna Station. Ticket prices for both excursions are $34.00 for adults 16 to 61, $29.00 for seniors 62 and older, and $22.00 for children ages 6-15. Children 5 and younger require a "no-charge" ticket.Limited seating is also available aboard Lehigh Valley Business Car #353 at $75 each, all ages.
Last, but certainly not least, we've planned a special excursion to East Stroudsburg that will depart at 10:00 a.m. on Saturday, October 12, arriving back at Scranton approximately 4:30 p.m.Members of Scranton's Delaney-Delacy Guard, Confederation of Union Generals, will be attired in Civil War-period dress and present a program during the layovers at East Stroudsburg and, on the return trip, at Tobyhanna Station. The programs will help commemorate the Civil War's 150th Anniversary. Tickets are priced at $54, adults 16-61, $49, seniors 62 and older, and $32, children ages 6-15. Children to age 5 require a "no-charge" ticket.

The 30-minute "Scranton Limited" short train rides inside the park boundaries will continue to operate with diesel locomotives on Fridays through Sundays, through November 30; they will also operate on Columbus Day Monday, October 14 and Veteran's Day Monday, November 11. These short train rides depart from the Roundhouse boarding area at 10:30 and 11:30 a.m., and 1:30 and 2:15 p.m. There is a $5.00 additional charge for this ride. The daily Entrance Fee is $7.00 per person, all ages 16 and older. Children 15 and under, accompanied by an adult, are admitted to the Park at no charge. The Entrance Fee includes parking and access to the outdoor grounds, the museum complex, scheduled walking tours, and the Park movie, "Steel and Steam."
Located in downtown Scranton, Pa., Steamtown NHS is open daily from 9:00 a.m. – 5:00 p.m. From I-81 follow exit 185 (Central Scranton Expressway); then, follow the brown and white signs to the main entrance at Lackawanna and Cliff Avenues (GPS: N 41.41, W 75.67). Train reservations open on Tuesday, October 1. Phone (570) 340-5204 daily, 9:00 a.m. – 4:00 p.m.; all major credit and debit cards are accepted. General park information is available by phoning (570) 340-5200 during regular business hours, or by visiting the Park website at www.nps.gov/stea anytime!
-NPS-