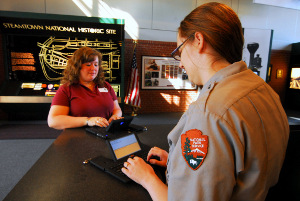 News Release Date:
March 4, 2014
Contact: Bill Nalevanko, 570-340-5186
Report shows visitor spending supports 76 jobs in local economy
Scranton, Pa. - A new National Park Service report shows that over 106,000 visitors to Steamtown National Historic Site (NHS) in 2012 spent $5.3 million in communities near the park. That spending supported 76 jobs in the local area.

"Steamtown National Historic Site is proud to welcome visitors from the local Scranton area, across the country, and around the world," said Acting Superintendent Bill Leonard. "We are delighted to share the story of this historic site and the experiences it provides.National park tourism is a significant driver in the national economy – returning $10 for every $1 invested in the National Park Service - and it's a big factor in our local economy as well. We appreciate the partnership and support of our neighbors and are glad to be able to give back by helping to sustain local communities."

Steamtown NHS is the only place in the National Park System where the story of steam railroading and the people who made it possible is told.The historic railroad yard site features a visitor orientation center with exhibits showing how the former Delaware, Lackawanna & Western Railroad's Scranton Yards evolved from 1850 to present, a 250-seat digital surround-sound theater showing the movie, "Steel and Steam," throughout the day, and steam-era railroading history, roundhouse and technology museums that tell a multimedia-rich story of the role of steam railroading in the growth of America.

"Steamtown National Historic Site brings a great deal of economic return to our region of northeastern Pennsylvania.Further, as a centerpiece of the area mix of cultural and historical amenities, Steamtown also adds considerable value in terms of quality of life to residents and visitors alike," said Robert F. Durkin, President of the Greater Scranton Chamber of Commerce.

The visitor spending analysis was conducted by U.S. Geological Survey economists for the National Park Service. The report shows $14.7 billion of direct spending by 283 million park visitors in communities within 60 miles of a national park. This spending supported 243,000 jobs nationally, with 201,000 jobs found in these gateway communities, and had a cumulative benefit to the U.S. economy of $26.75 billion.

According to the report, most visitor spending supports jobs in restaurants, grocery and convenience stores (39 percent), hotels, motels and B&Bs (27 percent), and other amusement and recreation (20 percent). To download the report visit https://www.nature.nps.gov/socialscience/economics.cfm.The report includes information for visitor spending at individual parks and by state.

To learn more about national parks in Pennsylvania and how the National Park Service works with Pennsylvania communities to help preserve local history, conserve the environment, and provide outdoor recreation, go to www.nps.gov/PA. For more information about Steamtown NHS, visit www.nps.gov/stea.
Located in downtown Scranton, Pa., Steamtown NHS is open daily from 10:00 a.m. – 4:00 p.m. through March 28; regular park hours, 9 a.m. – 5 p.m. resume on Saturday, March 29. From I-81 follow exit 185 (Central Scranton Expressway); then, follow the brown and white signs to the main entrance at Lackawanna and Cliff Avenues (GPS: N 41.41, W 75.67). General park information is available by phoning (570) 340-5200 during regular business hours, or by visiting the Park website anytime at www.nps.gov/stea.