Date:
November 2, 2009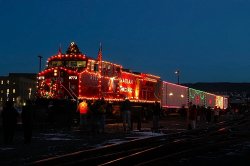 SCRANTON, PA – The musicians have been chosen, the whistle stops selected and the lights soon will be hung on the boxcars with care for Canadian Pacific Railway's U.S. Holiday Train and its goodwill journey for food shelves across the U.S. Northeast.


The Holiday Train will visit northeastern Pennsylvania on Saturday, November 28 at Steamtown National Historic Site in downtown Scranton, Pennsylvania, from 5:30 p.m. – 6:00 p.m., and visitors are advised to plan to arrive at least 15 minutes early. The train will then depart Scranton for Binghamton, New York on the former Lackawanna Railroad's mainline, expecting to cross the historic Tunkhannock Viaduct between 6:30 – 6:45 p.m.

Entertainers on the 2009 train include Prescott, a brother and sister duo, Adam Puddington, Shaun Verreault, and songwriter and recording artist Willy Porter.

The Holiday Train program has raised more than $3.6 million and 1.8 million pounds of food since the first Holiday Train ran in 1999. Thousands of people gather trackside at depots, railroad crossings and other unusual venues along CPR's route to enjoy the arrival of the brightly decorated trains lighting up the winter night. The musicians, who ride in vintage private cars at the end of the 12-car train, hop out and climb aboard a boxcar in the middle of the train that opens to reveal a stage where they perform live holiday concerts and invite crowds to sing along.

The Canadian Pacific encourages train visitors to donate money and/or nonperishable food items which, in the Scranton area, go directly to the United Neighborhood Center. Additionally, the Canadian Pacific will present a check to UNC representatives.

From I-81, follow exit 185 (Central Scranton Expressway) to Lackawanna Avenue and follow the signs to the park entrance at Lackawanna and Cliff Avenues; remember to plan on arriving at least 15 minutes prior to show time! For additional information, entertainer bios and digital images, visit the Holiday Train page at www.cpr.ca.

- NPS –